The Day with the Awful Ending
I was gonna call today "The Day of Extremes", and although that name still applies, recent events require a new name.
Great Start to the day. I entered the ward to see Karen smiling sat upright in a chair. Wahey ! Within 10 minutes, Karen wanted OUT of the chair. She was very uncomfortable. I suppose it must be very strange to be sat in a chair after a month lying on a bed. The nurses wanted to keep her in for a number of good reasons (lungs, strengthening muscles etc…) but kp was not having any of it and made herself very clear.
kp:- I WANT to get back into bed.
nurse:- Fine. Bed it is.
kp got her own way and the nurses set about the big task of moving her from a chair to the bed (takes 3 nurses).
kp is starting to get concerned about her eyesight. When we pass her something to look at, she puts it right upto her right eye, so close it is almost touching. It's disconcerting and saddening. One of the nurses did some tests to confirm the extent of the problem, but we won't hear any more on this until the Stroke specialists have done a more in-depth study. Apparently, it is not unusual for this to occur and then patients get back full vision in the course of time.
After a snooze on the bed, kp wanted to go back in the chair so we could take her for a coffee outside. The nurses did their thing to get kp in the chair, but unfortunately there weren't enough nurses free to take Karen for the coffee, so she had to wait in the chair for quite a while. She started getting frustrated. Tut here, Tut tut there, here a tut, there a tut, everywhere a tut tut.
The ICU ward was completely bare of any patients apart from Karen, so we put the ghetto blaster on with disco fever playing. kp started dancing (with her right hand), and asked me to dance. kp knows only too well that I am no John Travolta. But, for the sake of amusing the Queen, I strutted my funky stuff. kp had a good belly laugh, and then asked for a repeat performance when Jane returned from a breath of fresh air, so she could enjoy the pleasures of dance (dp style). What fun we had ;-|
After "Come Dancing", kp ordered me to Ward 3 to check out her new quarters. I was able to return with a positive report, namely kp had her own private room and that she was moving today

or should that be

Just before we went for a coffee, one of the consultants and another member of staff asked to seem me privately.
Consultant :- It's nothing negative Karen, I am sure David will tell you what its about.
?!?!?!?!
We ended up discussing it in front of karen. It was to do with this blog. It had come to their attention and although they appreciated the good light it showed their department in, they requested that we not mention nurses by name, and not include photos without express permission of the nurses. They were exceedingly nice about it – A totally legitimate request after all. So, sorry to any nurse that didn't want their photo on the blog. I have removed all offending photos. Let me know if I have missed any. I have also tried to go through the blog and remove name references, but there is a chance I have missed 1 or 2, so please contact me if I have missed one out. I won't be at all offended and it will be removed.
By the time this chat was over, it was tea/coffee time with kp outside. Yay !! This time, because she was in the chair, we could get her into a courtyard area outside one of the cafes.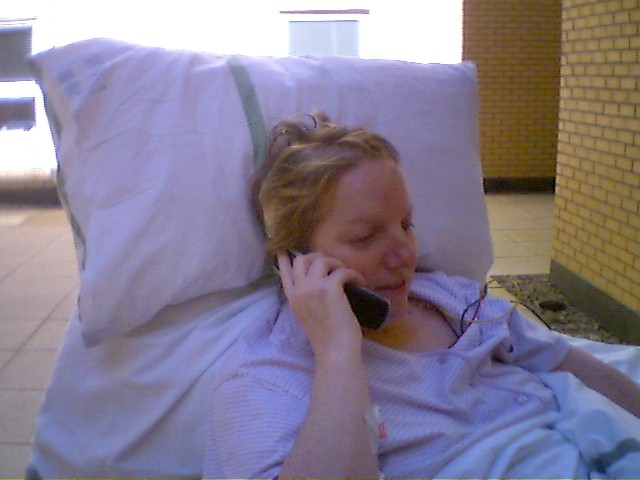 kp was in top form and enjoyed her cup of tea.
No sooner were we back at the ICU ward than it was time for kp to move to her new Ward.
We gave the ward a card of thanks and some choccies.
Karen signed the card.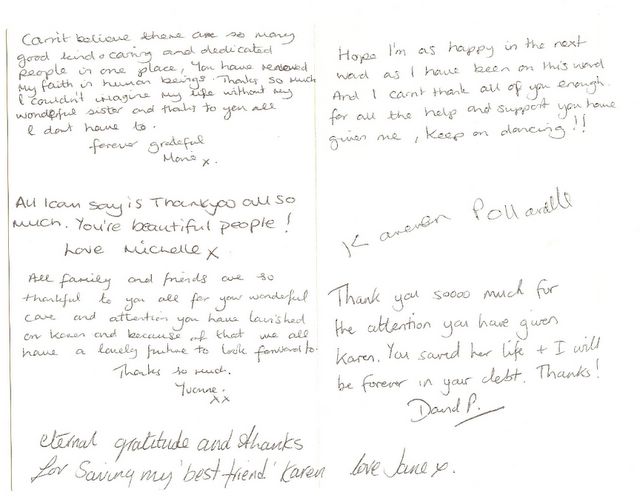 On arrival, Judith (one of her work colleagues was visiting) and had dropped off a film kp's colleagues had done for her. I had a quick preview tonight and it looks very funny. I will put it on the laptop so kp can see it on a bigger screen. Thanks Judith.
We moved her down, got her settled, sorted visiting hours out but within a short period of time, it became very obvious how much difference one-to-one nursing (ICU) is to one nurse to 12 patients nursing.
When we needed some nurses to move kp to a comfortable position, it was hard to muster support. She hasn't had her usual bedbath before she goes to sleep and it is a very big culture shock for Karen. For all of us in fact. Karen hasn't got the strength to move herself. She can't cut her food up (only 1 arm working). She needs assistance for frankly everything. And the poor nurses there have another 11 patients to deal with each. The next few days are going to be very interesting indeed and this was highlighted tonight.
When we left Karen, she had been moved into a comfy position and had fallen asleep. Within an hour of going home, she was on the phone to Marie and myself in tears. She couldn't work the phone, the tv and she desperately wanted me to go to the hospital to help her.
Of course, I went straight away and I was faced with the saddest of pictures when I entered her room. I am in tears now recalling it. She wasn't crying. She wasn't upset. She was watching TV intently. I watched for a few seconds before entering. I said "hiya love, what you watching". She said "not sure". So I looked and she was watching a static picture on the tv saying "Do not use your mobile phones in the hospital". No sound, no movement. So very sad.
I just hugged her. She was an empty shell.
We got to talking and she said she had to get out of there. I explained as best I could that until her pelvis is healed she needed to be in the hospital.
kp: You need to think "Out of the box". Phone your dad. He's good at thinking out of the box. But I can't stay here.
In the background was the wailing of an old woman crying for help. The stroke ward is mostly full of the older generation.
I was holding back the tears desperately. If I could take Karen home, I could look after her. No, I couldn't, I need an X-ray machine, drugs etc etc…I also need another person to help me move her. My thoughts were racing.
I couldn't think of a solution. She was due her sleeping tablets but kp spotted they were going to give her the wrong ones (they hadn't worked for kp a couple of nights before). I had to ring ICU to find out the right ones.
This was awful. AWFUL !
Poor Karen was in tears. I was so close, and trying to retain some calmness. Karen was saying some pretty negative things (I am not going to elaborate more than that). I was very concerned.
She was uncomfortable and wanted making comfy. I couldn't find anyone to help in the first 5 minutes. I buzzed the buzzer and a nurse came and told us that we were just one of 25 patients that needed attention and that they would get to us eventually.
I tried in vain, on my own to get kp comfy. She doesn't know what makes her comfy, so she can't instruct. She can only say when she is comfy. I couldn't find the position. She was sure she wanted to be on her right hand side.
Within 15 minutes (but it felt a lot longer), 2 lovely nurses came in and sorted her out. I had the position perfect but they had her on her opposite side. I'll know for next time. Within 1 minute of her getting comfy (no exaggeration) the sleeping tablets had kicked in and she was out for the count. I tried to tell her "Good Night", but there was no rousing her.
She is going to wake up in the night and be frightened unable to call anyone because she won't be able to find the buzzer I positioned right by her. She can't use the phone because she can't see the numbers to dial and struggles to get it off the receiver.
I feel awful, so sad, and within 1 metre of the ward door I was in tears. By the time I got to the car, I must have looked like a beetroot.
I am knackered ! I have eaten anything today apart from a pasty (thanks Marie).
I have called a family conference for tomorrow. The only way forward I can see is for the family to pull together to cover Karen's waking moments with company and to be her oddjob person.
I phoned Jane and Marie on the way home and both were very supportive and came up with some good arguments for kp's behaviour.
Let's see what tomorrow brings…………….
I suppose it can't be any worse. Or am I being naive ?
dp
I will post information about visiting kp tomorrow night after the family conference.
I know some of you asked about sending flowers but the ICU ward couldn't have flowers in for infection reasons. Flowers are now ok and may boost kp's morale. The address is
Karen Pollard
c/o Ward 3,
Queen Elizabeth Hospital
Queen Elizabeth Avenue
Sheriff Hill
Gateshead
NE9 6SX