So so week this week.
Karen's sleep has been slightly better, achieving 2 good night's sleep this week, but one night where it was really bad sleep. Until today, she has had quite an upbeat week.
Monday saw the neuropsychologist come to help karen cope with the mental strains of her "new life". It was a little upsetting for kp as she had to go through things from scratch and there were a few tears.
Tuesday was a busy day, Steve (the physio) came and left kp with some new exercises. Rachel (the OT) came and did some relaxation exercises with Karen that she can use to help her to sleep. She also brought with her a "Sleep Contract" which she had done a great job with, on some very old looking paper. Here it is. kp had to sign it, but I have purposefully left off the signature part…..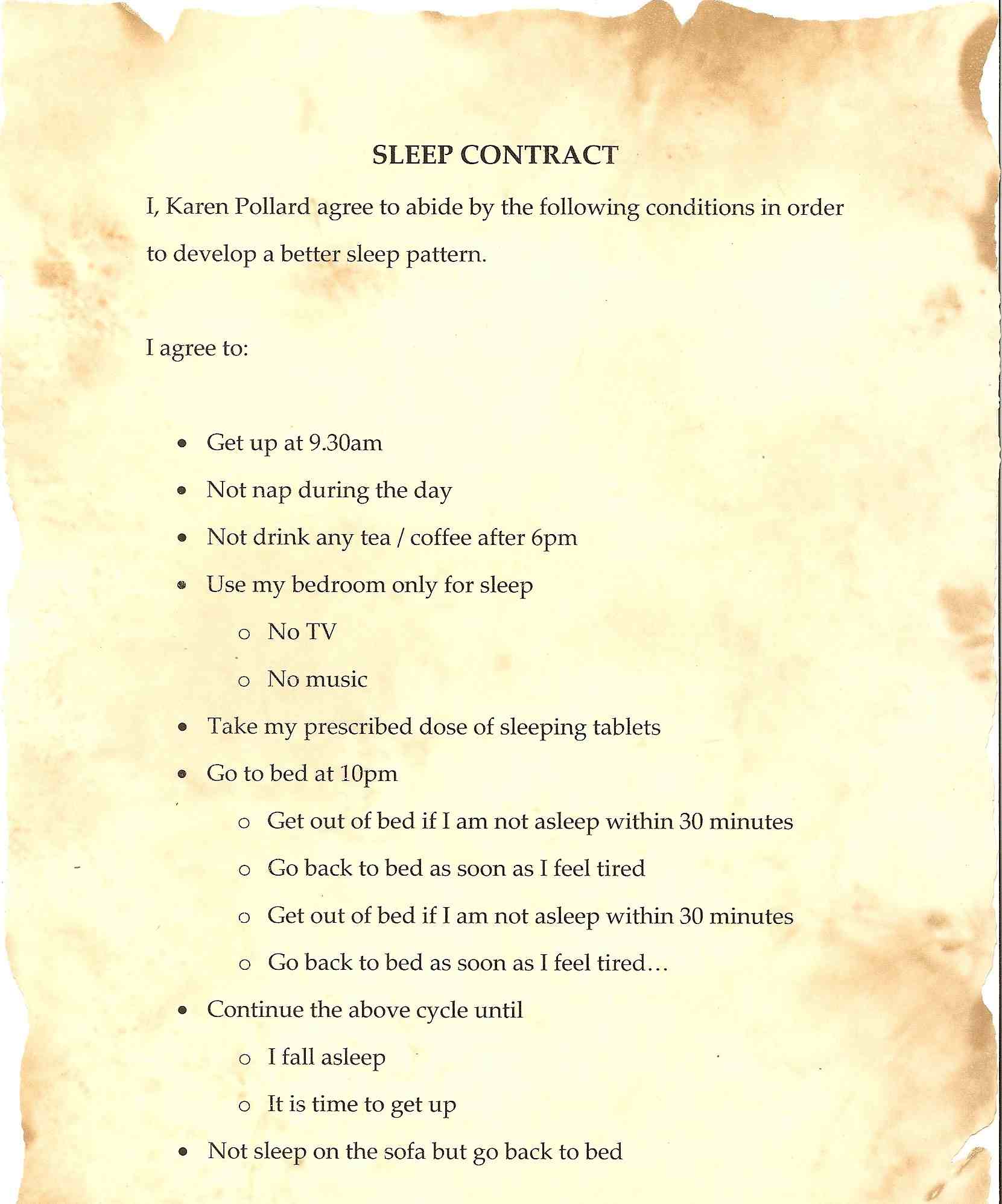 Wednesday was quiet and uneventful, but surprisingly it's the first good night's sleep of the week.
Thursday saw Syd come. Together, they chatted about the way things were going and Doreen (the Support worker) who starts tomorrow (monday).
kp was out of sorts on Friday and just wasn't feeling right. Steve and Karen agreed to not do a session that day, but kp felt guilty that he had come all the way from Seaham. Worst night's sleep of the week with only 1.5 hours.
I had to work on Saturday, something I had agreed with kp NOT to do, but I think she understood that it will be a one-off (I HOPE !). When we got back, we took the dogs for a walk. It was windy as hell, and kp still wasn't feeling 100%, so it was only a short walk (1/4 a mile). Whilst I was away, kp had been on the phone to Ronnie (from darn sarth) for 2 hours. Lots to talk about there.
Sunday should have been the best day of the week, but it turned into a bit of a 'mare. We went down to Whalley Golf Club for a Mothering Sunday meal. It was lovely to see all the family, and it was a lovely meal. kp and I had took some flowers down to give to mum. We left them in the car to give her them after as we were going to mum and dad's after the lunch anyway.
Here's a picture of us all together and one of Jamie and Sophie watching a golfer….
Sophie and Jamie were great. Sophie spent most of the time doing "sums" and she is good as well ! She is nearly 6 and can do any addition or subtraction as long as it's numbers less than 10 (as she does it all with her fingers). I was amazed, given her mum struggles with the same kind of sums

Jamie's  only interest was dropping his trousers to show off his spiderman underpants that mum and dad had brought back from South Africa. It was a good laugh.
During the lunch, Jane (my sister) was very excited about everything she had coming up in the future. Trip to America, New Garage, and lots of other exciting things and she was telling us all about this. Nothing wrong there !! After the meal, kp and I went out for some "fresh air" and as kp sat in the car, she started crying. What had sparked it was that Jane had so much going on in her life, but Karen felt she didn't.
kp:- Before the accident, my life would have been that full……
I tried my best to console her and tell her that she DOES have a lot going on in her life, but it was just different things, but she just got more and more upset.
kp:- I don't want anyone to see me like this.
dp:- well, we'll just go home (instead of going to mum and dad's for a cup of tea).
She was quite distraught. I felt I had to go and tell mum and dad and saw them coming out of the Golf Club and ran upto them to tell them we were just going home and that kp was upset. As I left, kp shouted
kp:- Don't leave me alone in the car
I said I'd be 2 secs, I had to tell mum and dad why we were leaving so suddenly.
In all the rush, we had forgot to give mum her Mothering Sunday flowers. So, mum, here's a picture……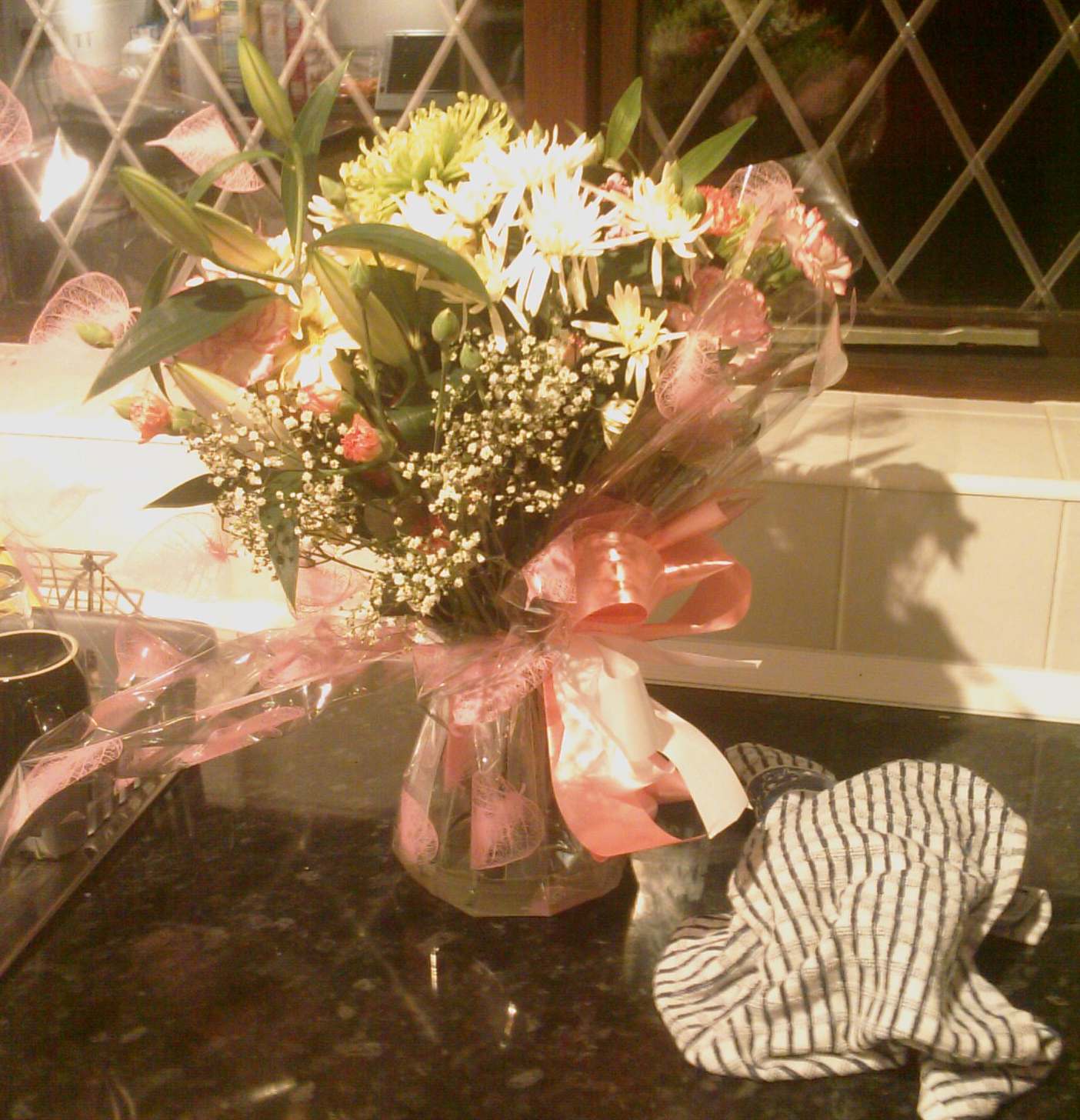 And yes, we'll throw in the teacloth !
So, sorry Pollards, for the impromptu departure. kp feels dead guilty, but I explained to her that you all understand that sometimes things get on top of kp. That was one of those moments !
kp remained upset until about an hour from home, when she fell asleep.
Tonight, we will have a chilling night and hopefully with the busy week coming up for kp, she will feel better.