"The Blog" as it has come to be known by our family and friends came about about 2 weeks after Karen's accident. I needed a way of keeping everyone in touch with kp's latest health situation and it pained me to have to recount how Karen was over the phone to people, repeating the same thing over and over again. I had enough to contend with being by kp's bedside most of the day/night. For the first 2 weeks (the really critical weeks), I didn't have time to write a blog, and had a list of 60 mobile phone numbers that I did a mass-sms to each night letting them know kp's latest state. I got to be a dab hand at typing "Critical, but stable". In a text message, you can only put so much, so the blog came about initially to allow me to let people know the fuller picture, but then after advice from the doctors and recovery team, it became more a diary of events which Karen would read one day to better help her recovery and to see how far she had come.
From moments away from death to the "walking miracle" she is now, this "book version" of the blog will allow kp to catch up on the last 12-14 months of her life, a lot of which she can't recall.
To set the scene for this book version of the blog for people who perhaps don't know Karen or I that well, I need to map out where we were in our lives at the point of Karen's accident.
Karen was a fit healthy youngish lady (42). She enjoyed walking the dogs, gardening and visiting friends and family. Here are some photos I dug up of kp.
kp and Goofy at Disney World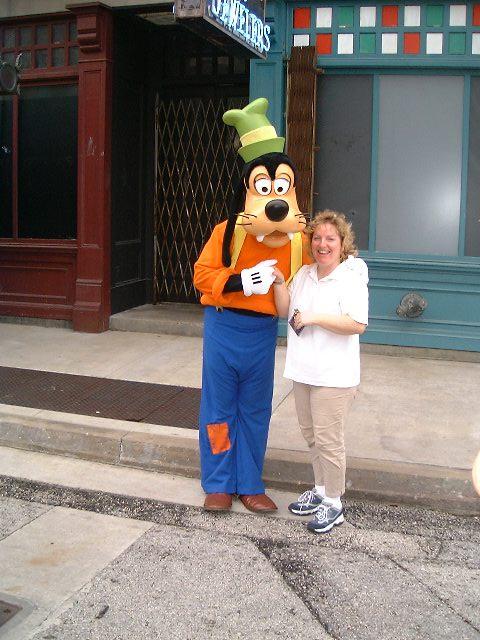 kp skiing in Austria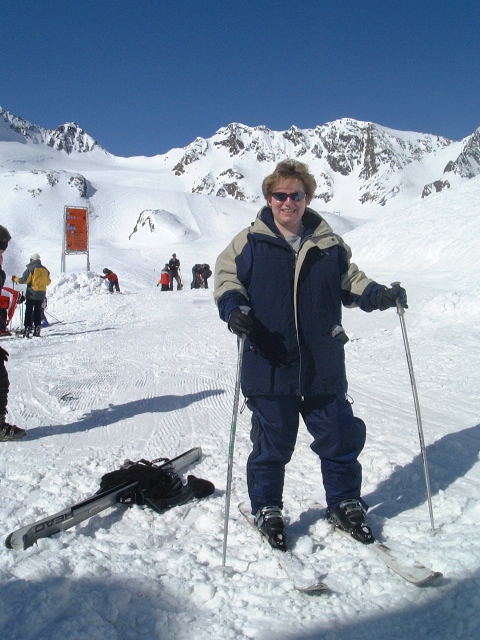 Karen and I always wanted kids and were unable to have them naturally. Bad swimmers and hard boiled eggs we always said. We did a load of IVF treatments (5 or 6 I think) – all were unsuccessful. We were very upset at each failed attempt, but persevered until monies and strength ran out.
We tried to resign ourselves to a life without kids, but it didn't sit well with either of us. IVF was out of the question now, so we went down the adoption path. We went through all the adoption training they give and had our interviews and were accepted as adoption parents. Yikes.
They then started sending us photos of these pairs of kids (we asked for 2) that needed parents. It was very scary having to pick. We spent a few weeks mulling over these kids and then it dawned on us that we didn't want someone else's kids, we wanted our kids. So, with sorry hearts, we resigned ourselves to being a childless couple. Our jobs remained our focus. I was in IT, and Karen was a manager at the University of Sunderland.
But, resigning ourselves to being childless was easier said than done. All seemed fine for a few weeks and then the reality of our decision hit Karen like a runaway train. She had a mental breakdown. It was so upsetting at the time. She couldn't work, she lost her voice (psychologically, not physically) and if she did speak it was in the quietest whispers. It took a few months of drugs and psychological counselling to get kp back upto form, but she bounced back as she always does. Back to work for a few months and then Lee (our 17 year old nephew) was diagnosed with Leukaemia. As things got worse, Karen gave up her job to help Marie (Lee's mam) care for Lee. It was a very sad time, but Lee's courage was huge and Karen and Marie did him proud with all the TLC. Lee died 12 months later.
Lee had needed gallons of blood a week to keep him alive and Karen felt she wanted to do something purposeful with her life and wanted to help do something related to Lee. She saw a job in the paper for the National Blood Service and she joined them and became an acupuncturist (one of the people who puts the needle in your arm).
She really enjoyed it. The camaraderie was great and the hours really suited (2pm until 7pm roughly).
All was going well. And then in December 2004, my runaway train hit me and I got disillusioned with life. What's the point ? Etc etc…. I had a great job that I really enjoyed, but it didn't seem to fulfill me. I resigned, worked my notice and dabbled in other money making interests that gave me more time with Karen.
And then 4 months later, on the 27th April 2005 at approximately 1.20pm on a Wednesday afternoon, our lives changed forever.
CLICK HERE to read about the accident.
No Responses to "Before Karen's Biggest Challenge"
No comments posted yet