Good week – great to have kp back in the house.
She remains upbeat and positive and life is returning to normal again. We're not fully there yet, but we're definitely heading in the right direction. The psychologist has recommended she holds back from anything that could bring her down until we have seen 4 weeks of stable upbeat kp, which seems good advice.
So, the week started with tears. Monday was the anniversary of the accident but I had totally forgotten

. kp hadn't ! Karen was very teary in the morning and I just couldn't work out why ! When I asked her, she said she didn't know why she was teary. Later, she told (reminded) me that it was the anniversary of the accident – it all slotted into place !! She hadn't wanted to tell (remind) me at the time, 'cos it would have set her off (crying) again !
I felt a bit guilty, to say the least!
So, the day was a bit of a "down" affair. Nat was kicking herself 'cos she should have arranged something for monday. kp and I were doing the same ! We'll remember for next year, well, probably !

Thankfully, it was merely a blip/dip in mood and the following day kp was back on form. I had a helicopter lesson booked for the afternoon, but weather stopped play. And pretty much, this repeated itself each day. Heli lesson booked, and cancelled on day

The weather for this coming week doesn't look much better, but I live in hope !
Anyway, back to kp…….Tuesday saw kp and Nat go off to the gym to do her exercises and then to the Metro Centre after a bite of lunch to get Dad's birthday present. She also tried to book Whickham Villa for friday for a nice massage, soak and swim, but it was fully booked

Wednesday and kp was up and about early sorting out the spare room, which is the room for old boxes and all the crap we never use.
Thursday and another trip to the gym with Nat. She has learned her lesson from previous trips and is no longer trying to compete with herself. She always tried to do the speed walk in less time, or do longer, with the inevitable increase in pain, but she is pacing herself so she doesn't lose out on the week !
Unfortunately, despite the new pacing regime, she was still in pain, but we have put this down to the patches being reduced this week and her body not being fully used to them.
Friday was my birthday (32 years old (+/- 10 years)). And the card she got me was absolutely spot on. She is sooooo good at picking cards that are pertinent.
"Happy Birthday to my husband.
I may get kind of GRUMPY when I've had a rotten day,
And other times I just won't BUDGE no matter what you say…
Sometimes I might start NAGGING when you try to take a break…
Or tend to say "I told you so" when you've made a MISTAKE…
But even though my changing MOODS might drive you up the wall…
As long as we're together I'm the HAPPIEST wife of all!"
I love her so much. PLUS the card, I got a dry suit so I can go diving in the cold UK waters. It was a bargain. Dave and I saw the same suit for £499 at the diving shop in Whitley Bay. I got it for £204 INCLUDING a fleecy undergarment worth £70 !! Happy camper !
We had a nice friday together, doing some gardening. On the night time, we went to Nigel's (my mate) for tea. I was thrilled that we were finally going and kept thinking that kp was going to back out at the last minute, but she was good to go !!!!! William, Terry and Lillian (Nige's mam) were all there, plus 3 dogs,and a cat ! Lillian had just had some chemotherapy that week, and had had a day feeling low, and it was so nice to see Karen be the one who was able to pick someone else up for a change. Whilst Nige and I were catching up, I couldn't help but earwig in on kp's conversation to check she was ok, but she was fine and in good form – WELL DONE KP !!!!
Cracking Night, shame it wasn't longer, but kp had took her Amytrypteline a about 8pm and by 10.30pm she was tired, so we had to leave earlier than hoped

Saturday, dog walking, more gardening and some good TV on the night. No Pizza 'cos we had had Pizza at Nige's.
Today, we were both knackered (from the gardening yesterday), so lots of snoozing after dog walking.
So, this coming week kp and Natalie have planned quite a busy week, which is good. I have a heli lesson booked for tomorrow, which will no doubt be cancelled because of UK weather

Fun Fun Fun !
Here's some photos of the week…..
Lillian, William and Terry…..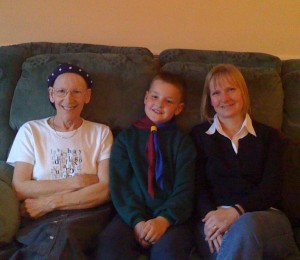 kp and Milly (at Nige's)…..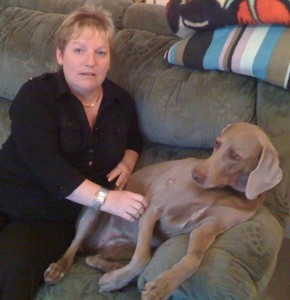 Bonnie and Elsa (plus big stick)……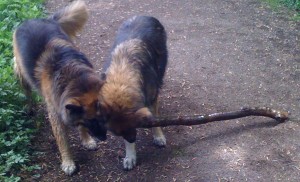 Elsa (not understanding Centre of Gravity)….