It's been the longest gap in the blog, but with good reason, we have been on our hols. That accounts for 2 of the weeks, the third I have been mostly on the loo, feeling like death warmed up and the blog was the last thing on my mind.
So, let's go back 3 weeks in time.
Sunday 7th October was the first day of our holiday. Flight from Newcastle to Sharm-Al-Sheikh (Egypt). The flight was awful. Crammed into our seats, we suffered 5+ hours with kids wailing in the seat behind and not being able to hit them of course adds to one's frustration. Karen takes the ambulift to the plane, and we had noticed another couple (similar ages to ourselves) riding it as well. But there was much chance for chit chat as it was a short ride to the plane. When we landed, we saw this couple (David and Helen) again as the ambulift took us to the baggage reclaim and we got chatting. It turns out Helen was also involved in an accident. She had broken her back in a boating accident in Thailand. She suffers a lot of pain and within no time we were all comparing medications. Helen was on oramorph for her pain, Karen told Helen about the Fentanyl patches. Dave takes paracetamol for his headaches and I take Solpadeine

Anyway, we got on very well on the short ambulift ride, and then when it came to saying "goodbyes", it turned out we were all staying at the same hotel. We travelled in a convoy of limousines (as they call them, cars to us) to the hotel together. The hotel and resort complex is huge, something like 8 sq km. Dave and Helen were staying in the Resort Complex somewhere, and we were in the hotel. Suffice to say, arriving at the "hotel" doesn't mean the end of your journey. For Dave and Helen, it was a further 20 minutes while the HOTEL STAFF tried to find their villa !! It was a short hotel internal taxi ride to the hotel reception for kp and I. We bade our farewells to Dave and Helen, doing the usual "see you around". It's that weird situation where you kinda want to meet up again for dinner and time together, but you don't want to force yourself on another couple who may just want some privacy etc…..As it turned out, we would be seeing a lot of Dave and Helen on the holiday and we now have a friendship that will probably carry on back in the UK, which is great.
Here's a quick piccy so blogreaders can put names to faces….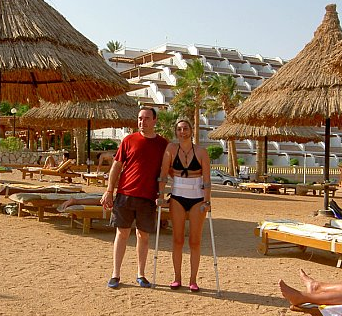 We had Room service dinner on the first night, it was very good, and things looked promising on the food front for the rest of the holiday. How wrong we could be !!! By the way, it was the Sheraton Sharm we were staying at (a supposed 5 star hotel).
On the first day, we were dropping some stuff off at reception, when we bumped into Dave and Helen again ! The chances of this were very slim, because their reception was a different reception. Uncanny. Anyhoo. We had some drinks together and some fags (we all smoke) and enjoyed some good banter.
Up until this point, the plan for the holiday was for me to spend the first week of the holiday with kp so she knew her way around, and then from the Saturday onwards for me to take a 4-day Open Water Diving Course, and do a 1-day boat trip set of dives some day before we go home. Dave and Helen were only there for the first week. Dave is already a fully qualified Scuba Diver (to the highest level), so his plans were to do some dives when Helen was feeling ok. I think it was Helen who suggested that I swap my diving course for the first week, so that she and Karen could be company for each other and the boys could do their thang.
It was a great idea.
I started my diving course the next day. It was a mixture of classroom, confined water dives (deep swimming pool) and open water dives (the best bit). Here's me on a confined water dive with my group and our instructor Chico.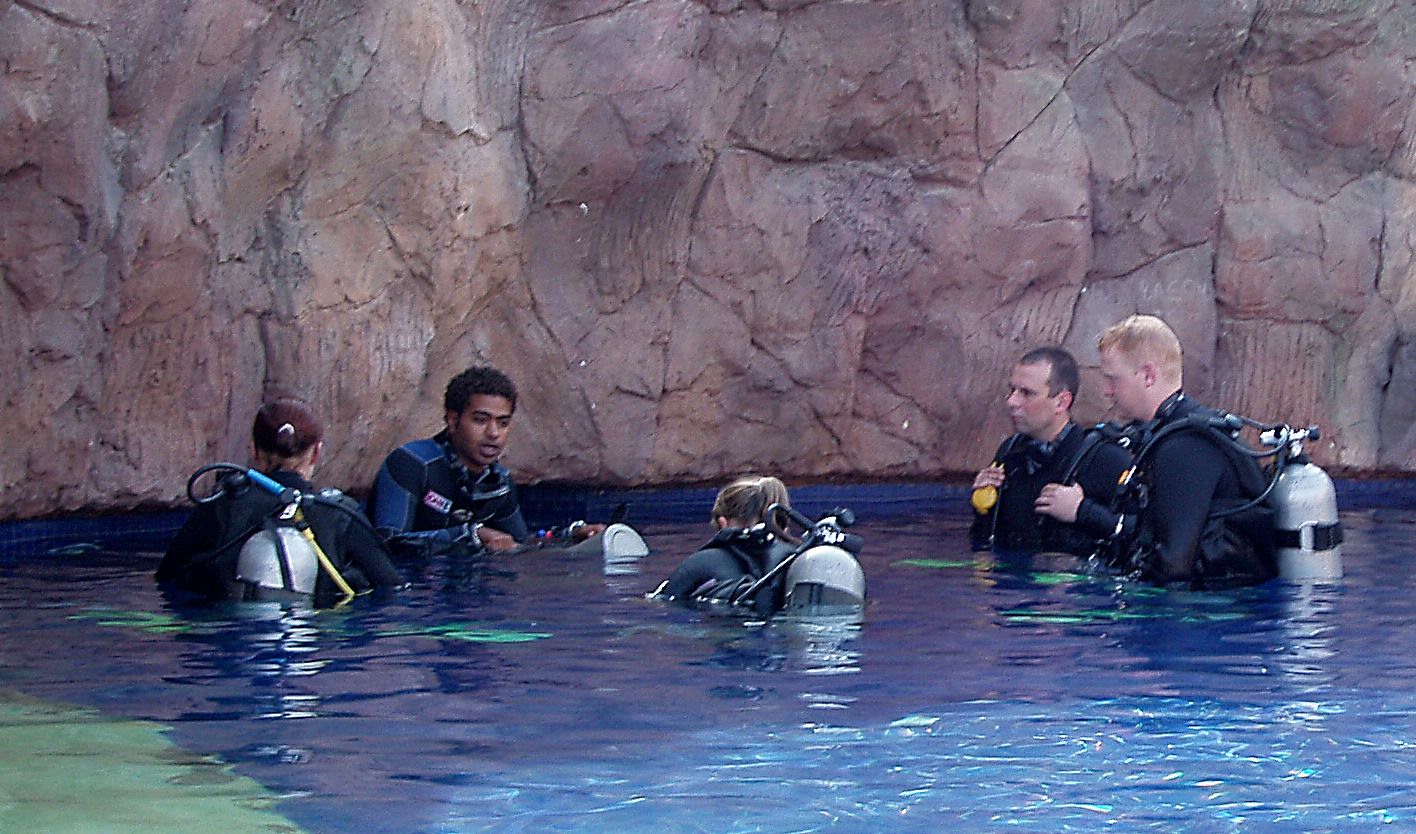 The arrangement worked out great for everyone

Helen and Karen would be gassing on sun loungers close to the dive centre. I would go out and meet them at breaks. Dave was enjoying his diving at various dive sites. I think the first day took it out of Karen though. Karen isn't used to much company and because of the head injury, following conversations generally can be tiring. On the first day, she spent the whole day gassing with Helen, and on that night she was ABSOLUTELY shattered. I think it's the first good night's sleep she has had for ages. It sounds like it was "good for Karen", but it wasn't, so future days, she went for a snooze in the afternoons and felt much better for that.
The temperature whilst we were away was absolutely perfect !! About 30′c to 35′c during the day at a guess, and the coldest would have been about 20′c in the middle of the night. It was gorgeous. The hotel was magnificent, but the food was atrocious (apart from the room service, bizarrely). After 7 days, I sent a 4 page letter to the General Manager complaining about the food and being specific about what was wrong, hoping it would improve for the 2nd week, but it didn't and he DIDN'T EVEN REPLY !!! But, the hotel was lovely. Here's the view from our room…..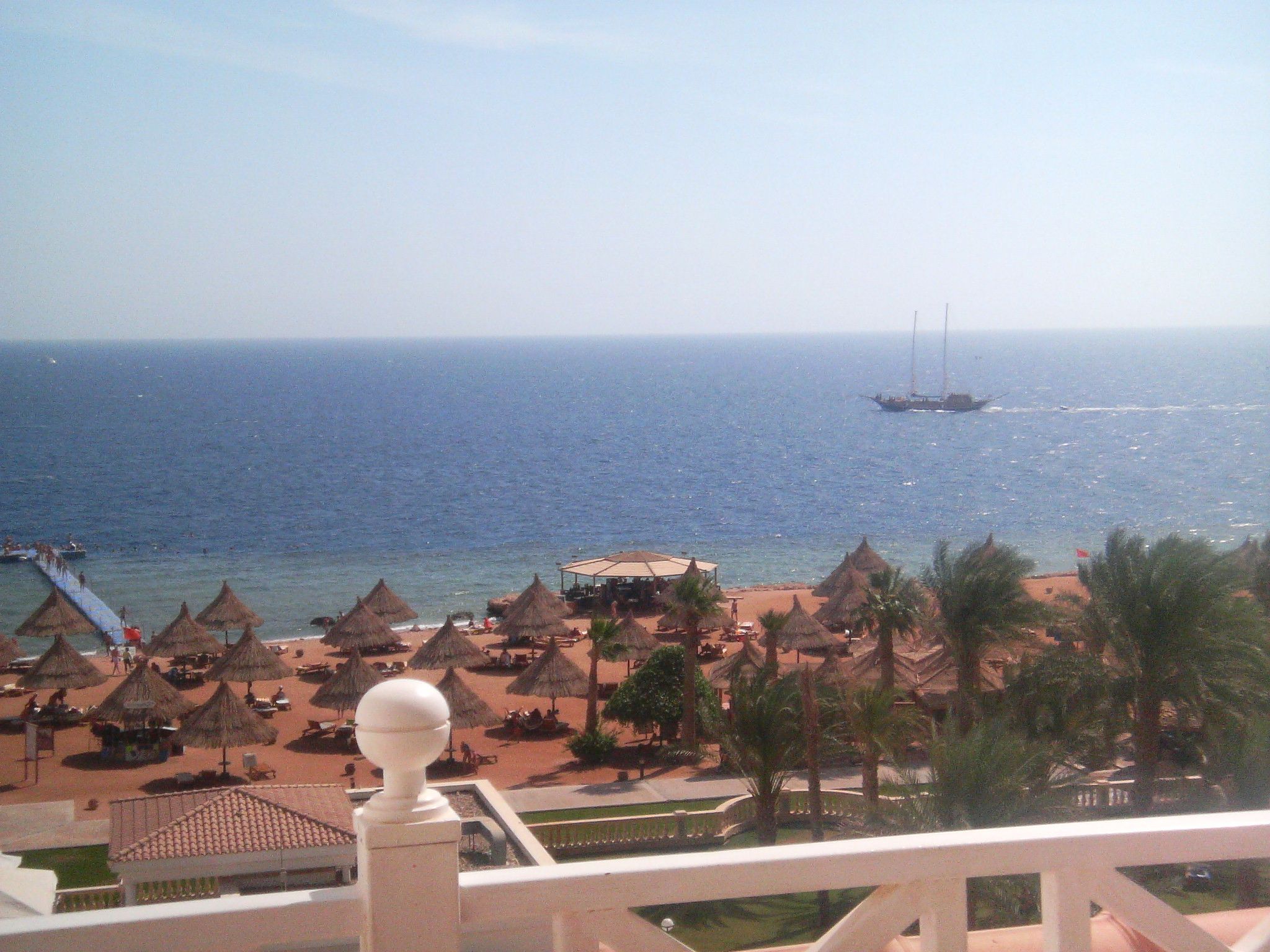 And here's Karen on one of the corridors with Tiran Island just visible in the distance.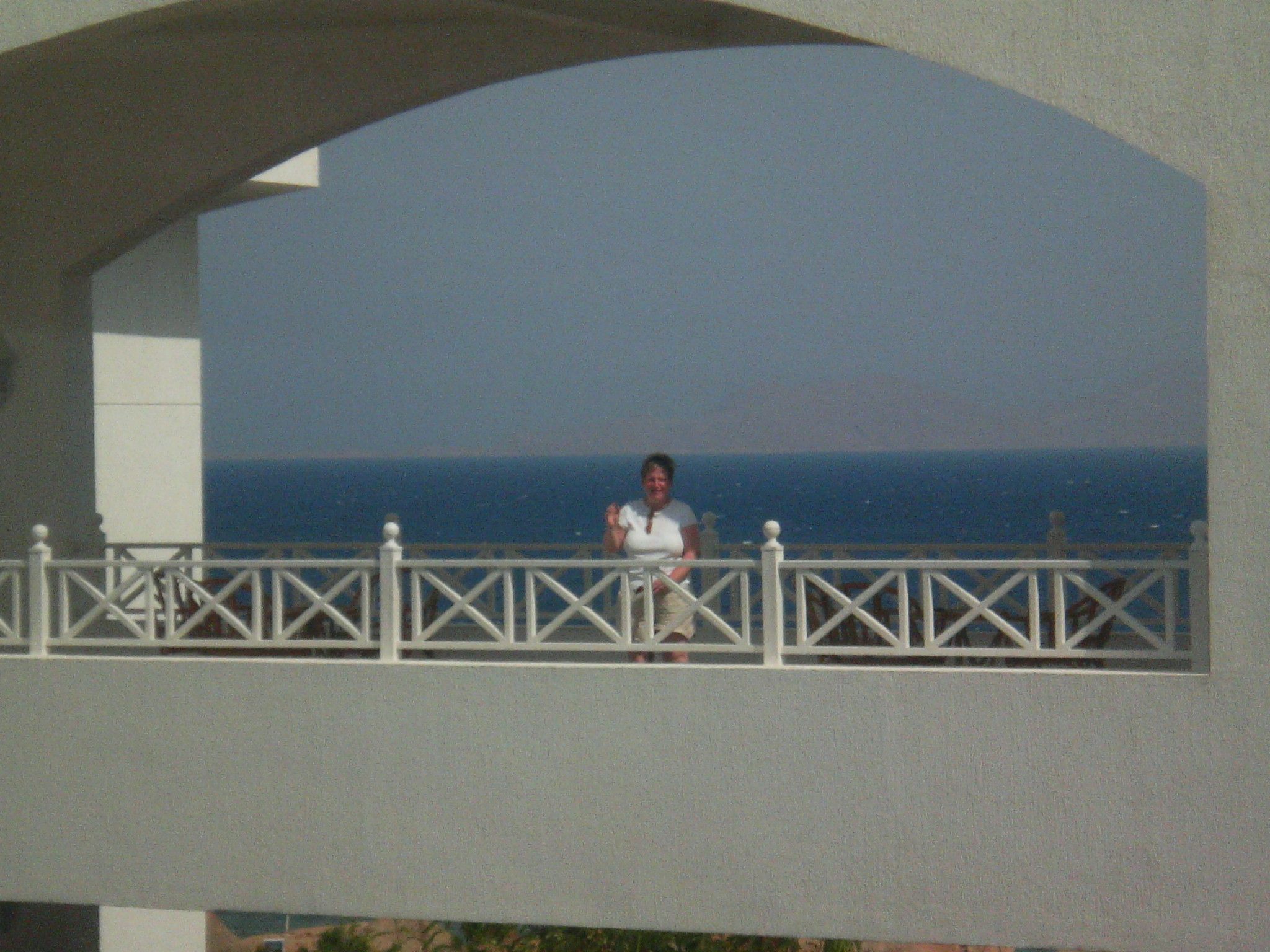 The sea temperature was also beautiful at 28′C. One of the things Karen enjoys about being in a warmer clime is that her pain becomes a lot more manageable and takes a less pain relief to keep in check. We picked Egypt specifically because of its temperature at this time of the year.
After the second day's diving training, we all hooked up for a meal at one of the hotel's 7 restaurants (The Italian). Karen had read good reviews, but we weren't impressed. My Calzone was cold, and Karen's meat tough. But it was good company.
Here are some pictures of me diving.
Here is me (photo by Dave) taken after a confined water dive…..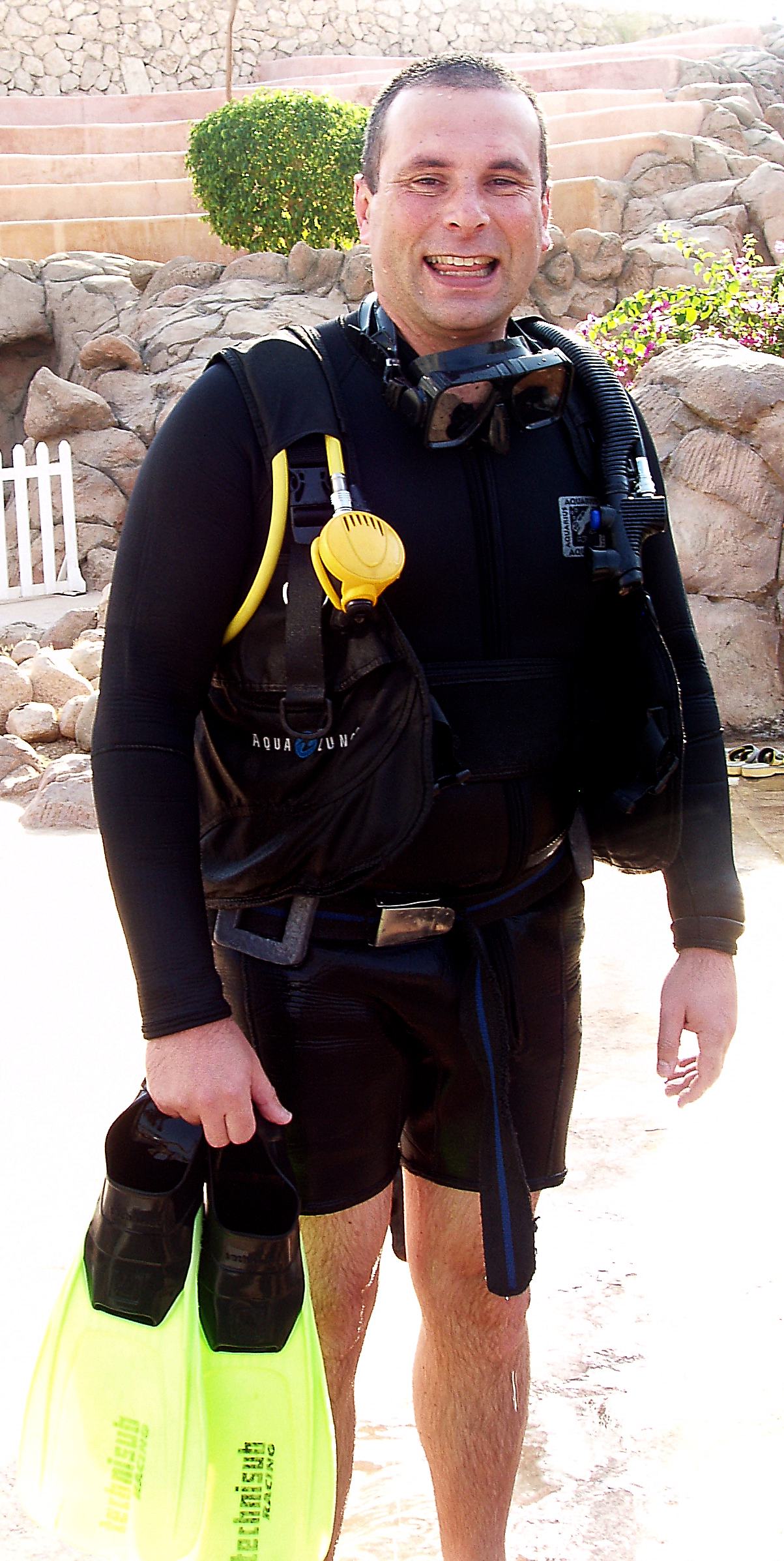 Here's me underwater…… This photo cost me a beer…….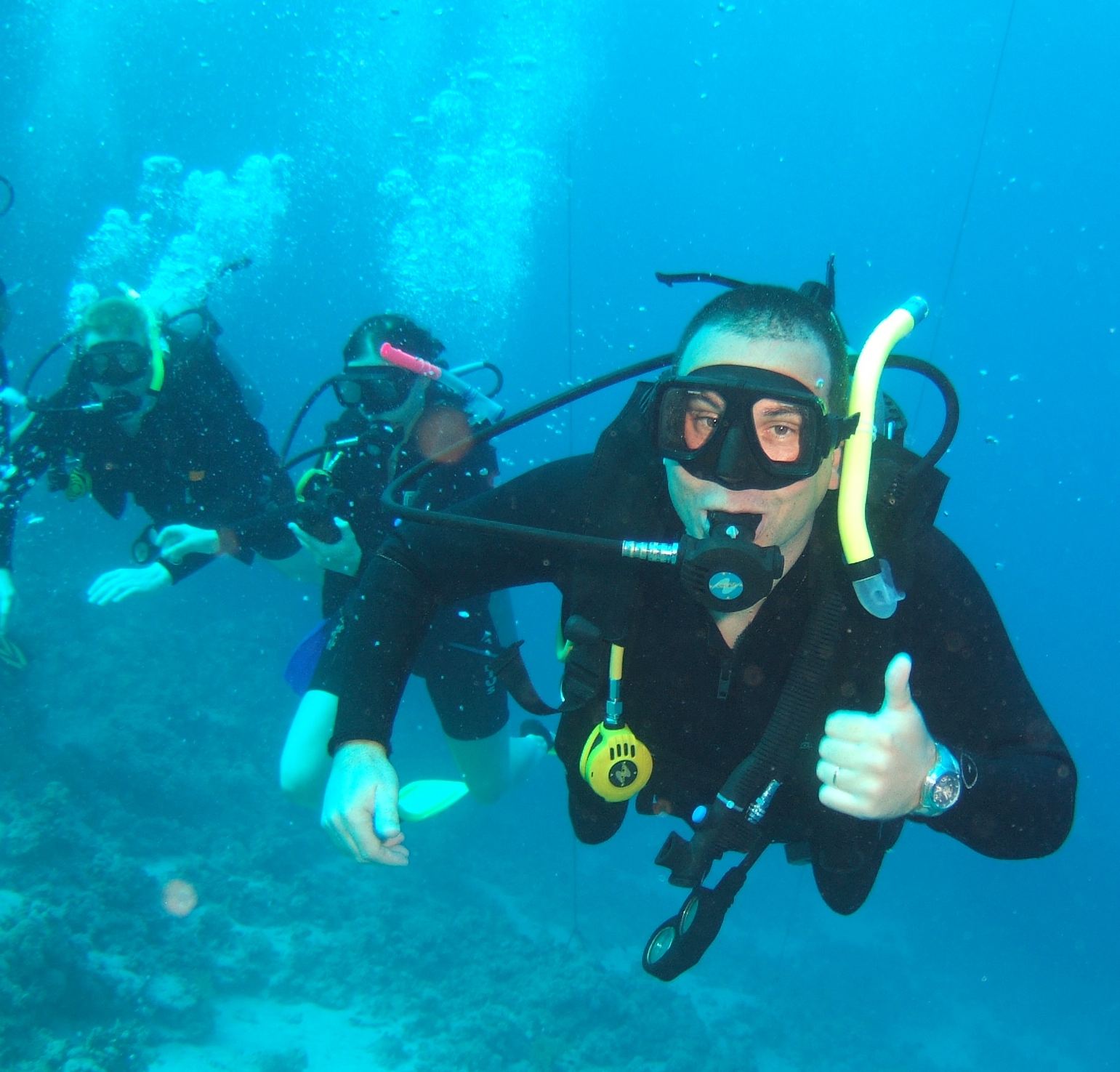 And this one cost me two…..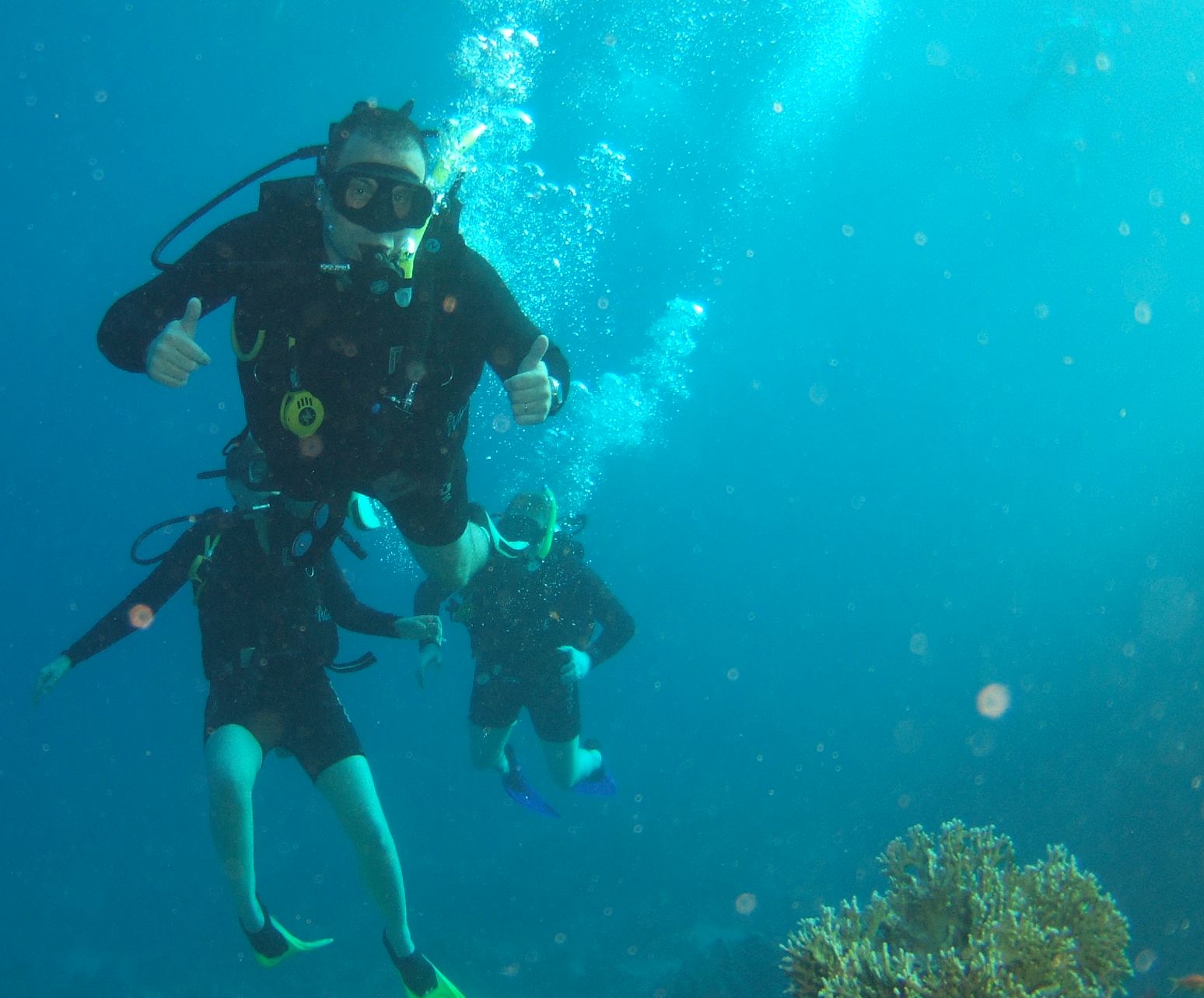 Divers will know why. In my defence, this was my FIRST open water dive.
The photos were taken by one of the dive school staff and he also took some of some of the wildlife we saw………Diving in the Red Sea is an AMAZING experience. We really saw the following…..
I can't remember what these are called. Dave will let me know.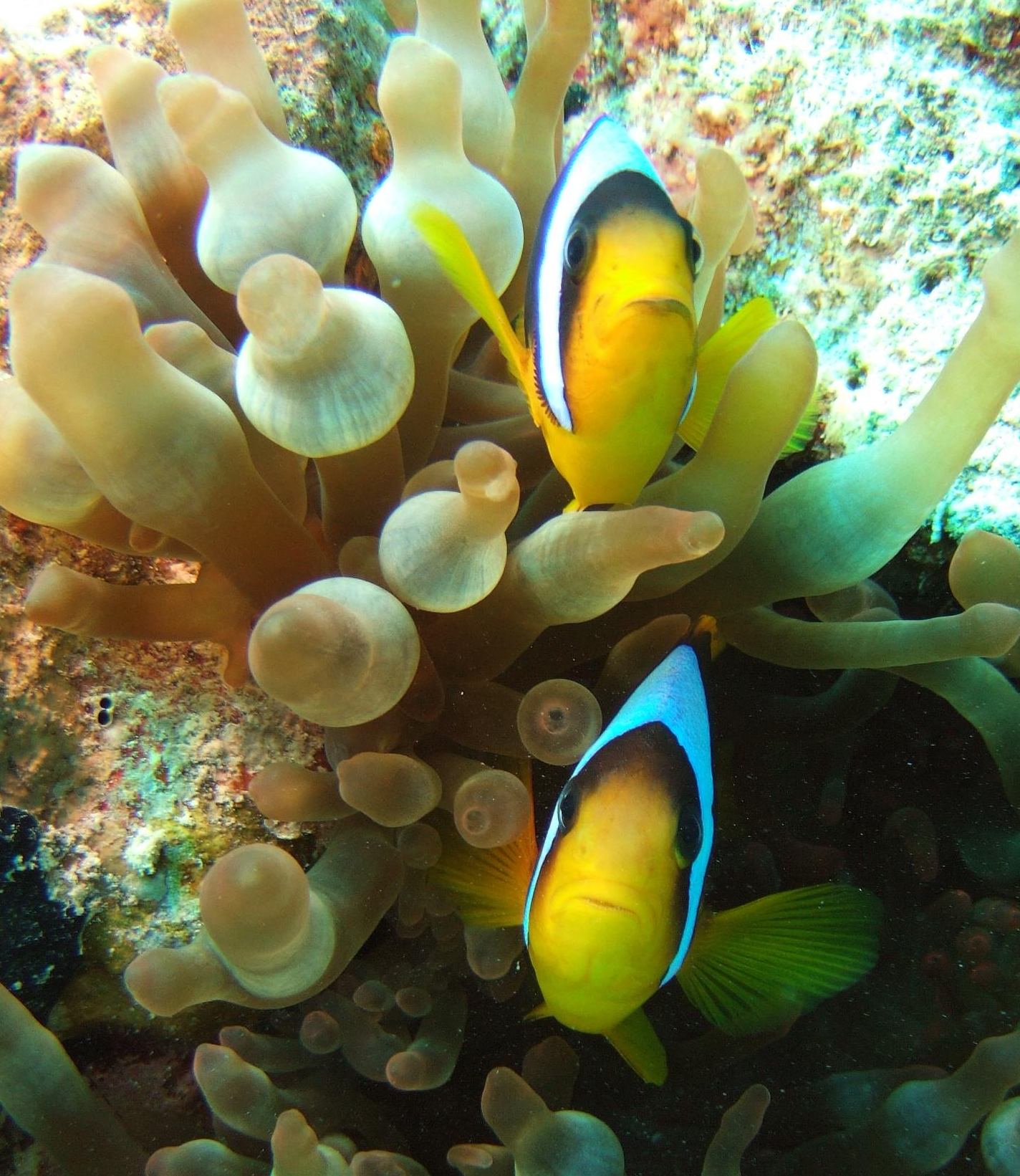 These are lionfish. Commonly seen in ones and twos, but we saw 5 together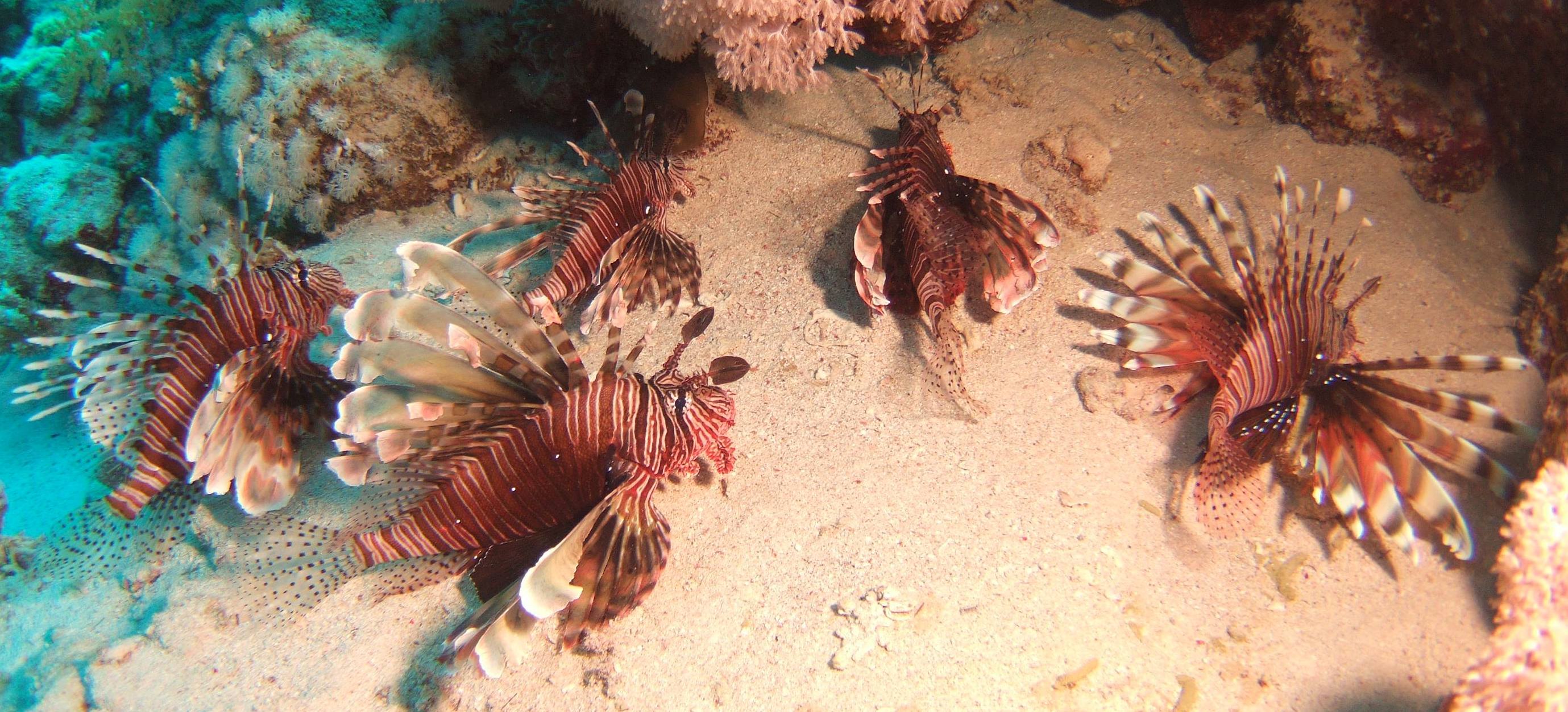 I think this is a crocodile fish, that right Dave ?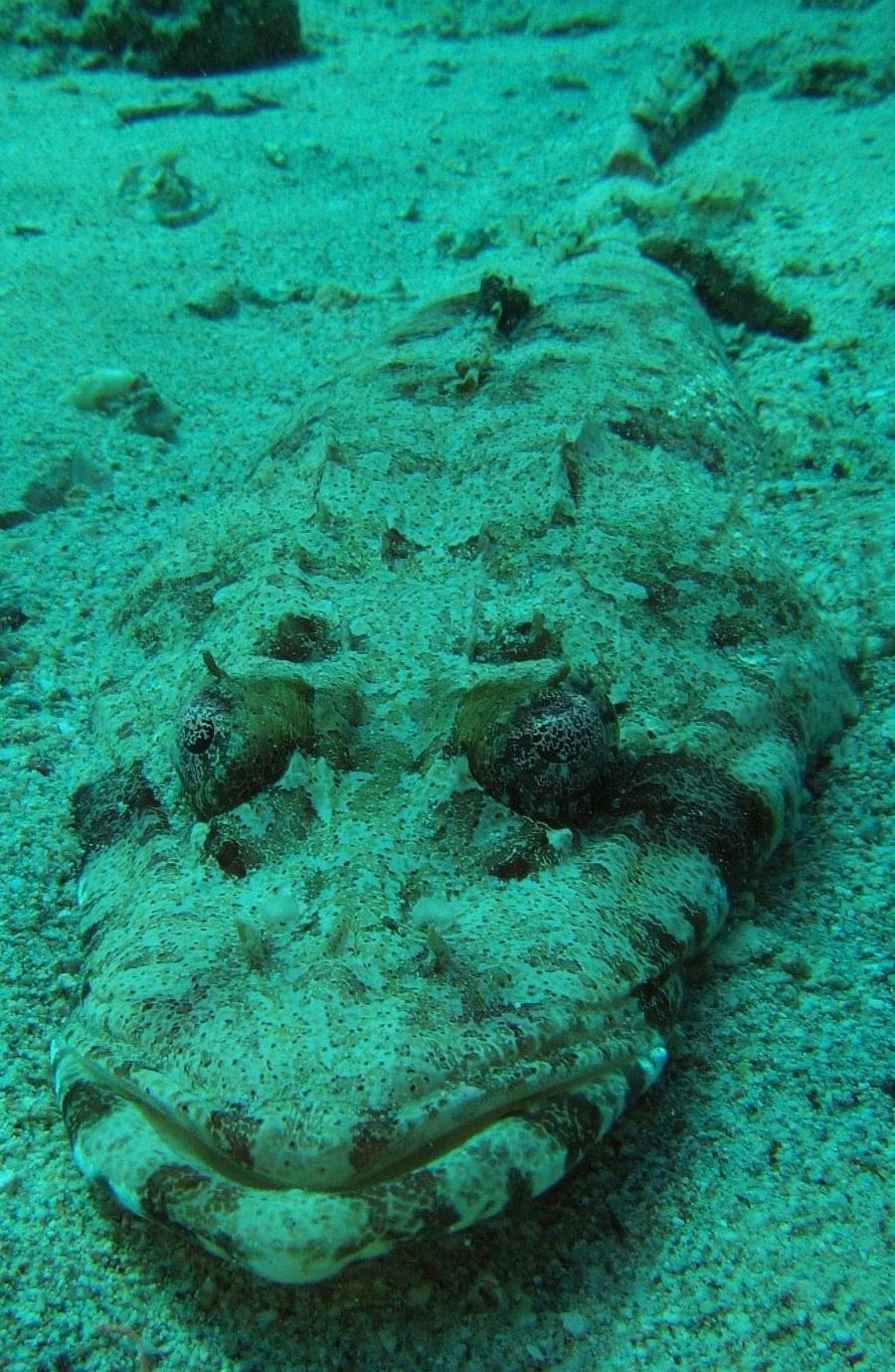 So, the routine so far was, breakfast at about 8.30am (buffet style with pitiful tea/coffee service), meander down to the beach, reserve 4 loungers close to the dive centre. Karen would await Helen's arrival (or I would pick Helen up from the room if Dave was diving). Helen's accident was 18 months ago, but she can only walk short distances, so the half a mile from her villa to the beach was best in her wheelchair. In a way, it was great for Karen and Helen to be able to share their stories, but it was a shame they were so similar, as if one of them had been more mobile, they could have pushed the other around various local attractions, as it was, they both were restricted to the beach really, but thankfully, they got on great.
I would pop over for a beer and fag when we had a diving break. On the last night before the final day of the course, I did some revision as there was a final test, but I needn't have worried as it wasn't too taxing.
One some of the days of my course, Dave wasn't on a dive trip, so he would entertain the ladies. He took them for a paddle, and according to karen "really looked after me". Karen and water go together like fish and desert. But he took Helen and Karen in so they could have a look at the fish. Even in the shallow water, you could sea the most beautiful coloured fish just by standing up. They would come up and swim through your legs. I think Helen even got pecked by them. Here is a good photo, taken by Dave. He had escorted them in to waist height water, left kp attached to Helen and then took this photo….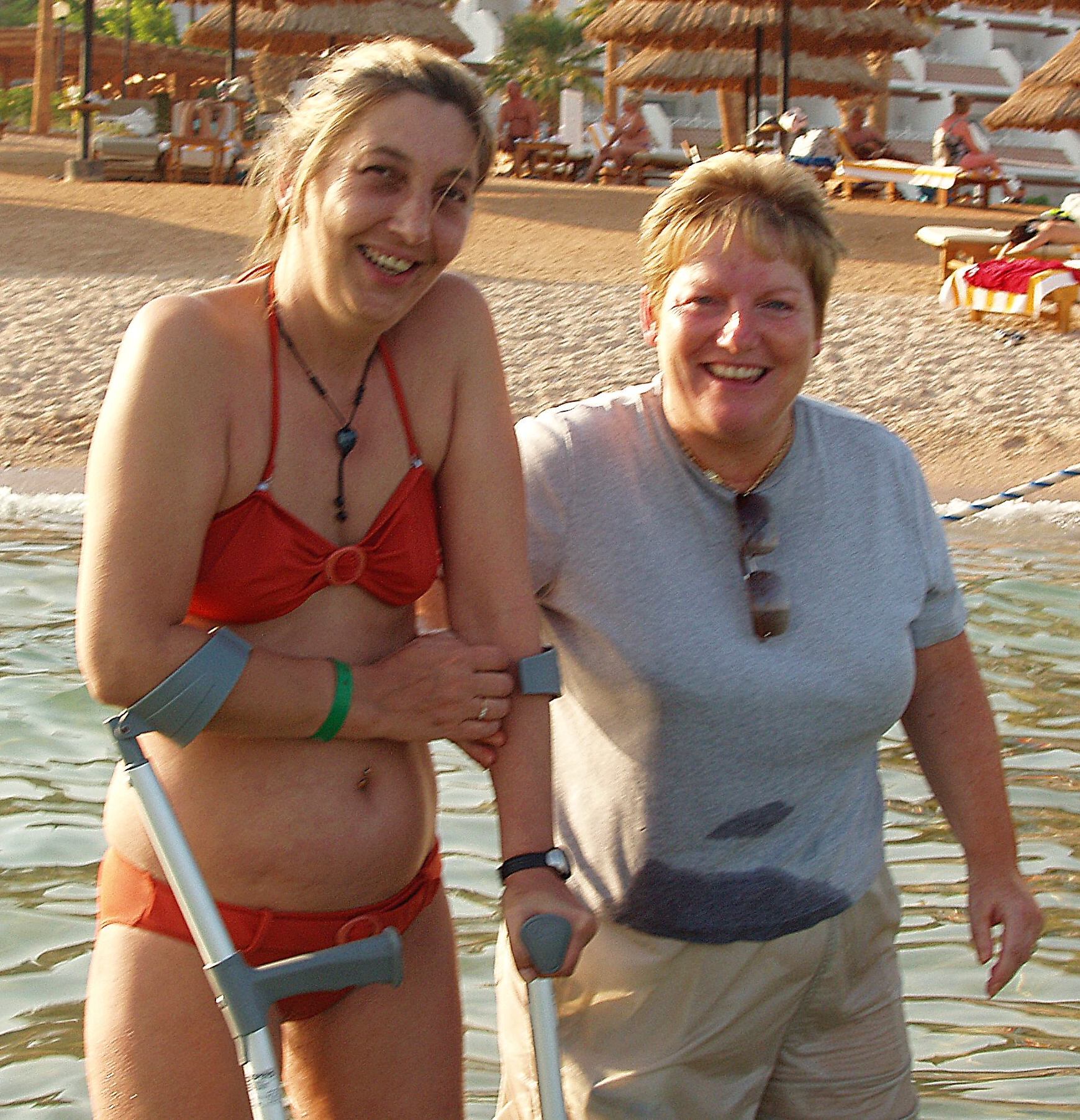 On friday, I completed the course and had promised kp that we would go snorkelling on the Saturday. Helen had suggested Dave and I go for a dive now I was "qualified" to swim in Open Water. So in the morning, Karen, Dave, Helen and I went snorkelling off the beach. Dave looked after Helen and I did kp. The tricky thing was that the water was so shallow (the tide was out). So, it must have been just above knee height, but how do you get Karen to get her mask underwater and see the fish. It was a real struggle and she was very scared and there were quite a few tears as we tried it. She SOOOOO wanted to do it, but initially, she couldn't get the confidence to trust me to get her horizontal. Eventually we cracked it, and she started wildly me tapping my leg. I thought she was scared so yanked her out of the water.
kp:- What did you do that for ? I could see LOADS of fish.
dp:- Sorry, I thought you were scared and wanted to get out of there.
We worked on a signalling system after that, but it never worked, and I just had to try and guess what she was signalling.
The good news is that she experienced some of the wonder that I had seen over the past few days. We vowed to do more snorkelling before the holiday was up.
We had to leave it there, as they were blowing whistles from the side to say "come in". Think they were concerned we would damage the coral.
That afternoon, Dave and I went diving together off the Hotel Reef. Here's me and Dave (photo courtesy of Canadian John, thanks John)…..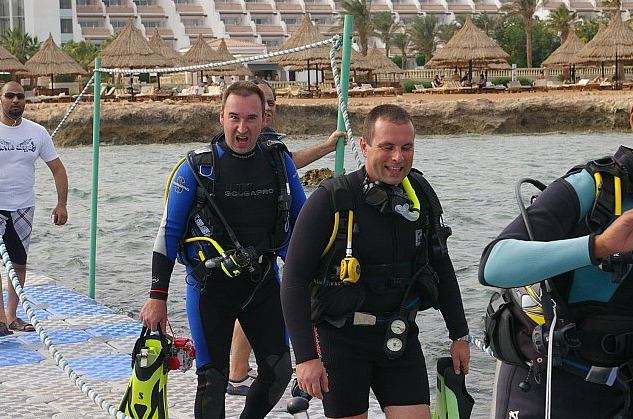 That night (Dave and Helen's last night), we all went to Na'ama Bay (big touristy spot). We had an absolutely cracking night after the first of many HORRENDOUS car journeys. Since the accident, Karen understandably always travels in the front passenger seat. So, Dave, Helen and I were in the back. Egyptian driving is unbelievable. On dual carriageways the lane dividing lines mean nothing. They overtake on both sides of each other and often hover on the white line while driving THREE abreast !!! ALL THIS WITH THEIR LIGHTS OFF in the dark !! I kid you not. The logic for putting the lights on seemed to be. "Put the lights on if I think the car coming straight for me hasn't seen me". It wasn't just our taxi driver who did this, but ALL OF THE DRIVERS drove with their lights off. Until this day, I still don't understand why. None of them spoke good enough english to explain why they do this. By the time we got there, Karen was in a bit of a state. She was making the odd screaming noise on the way there. We all felt so sorry for her and had to keep our screams to ourselves so as not to panic her more.
Anyway…..Once there…..
We started off with some Sheeshka Pipe Smoking (HubblyBubbly), something kp and I would never have done)…..
Here are Dave, Helen and kp sat on the floor (virtually), getting ready to enjoy the cool smoke……….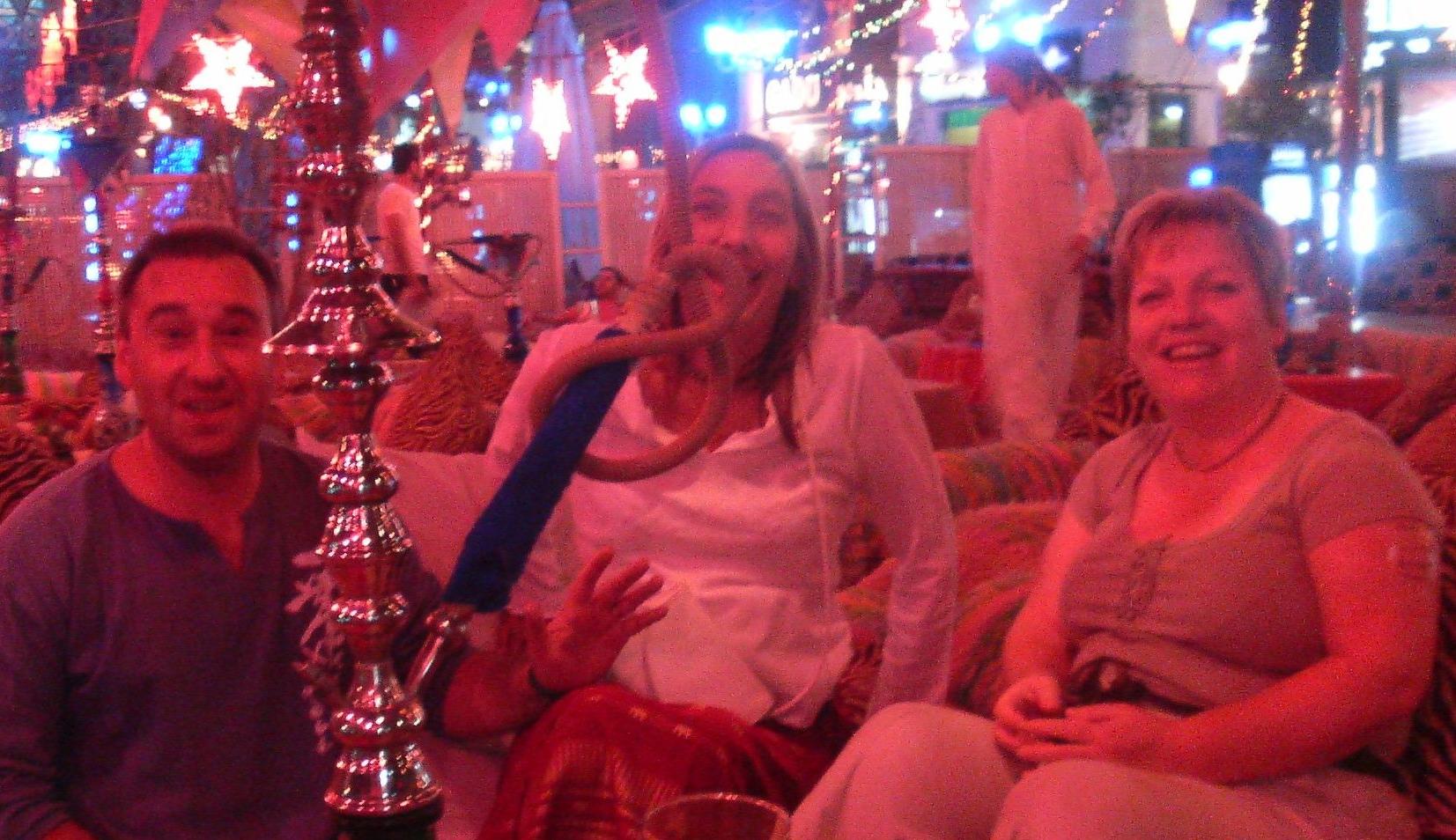 Here is kp taking a puff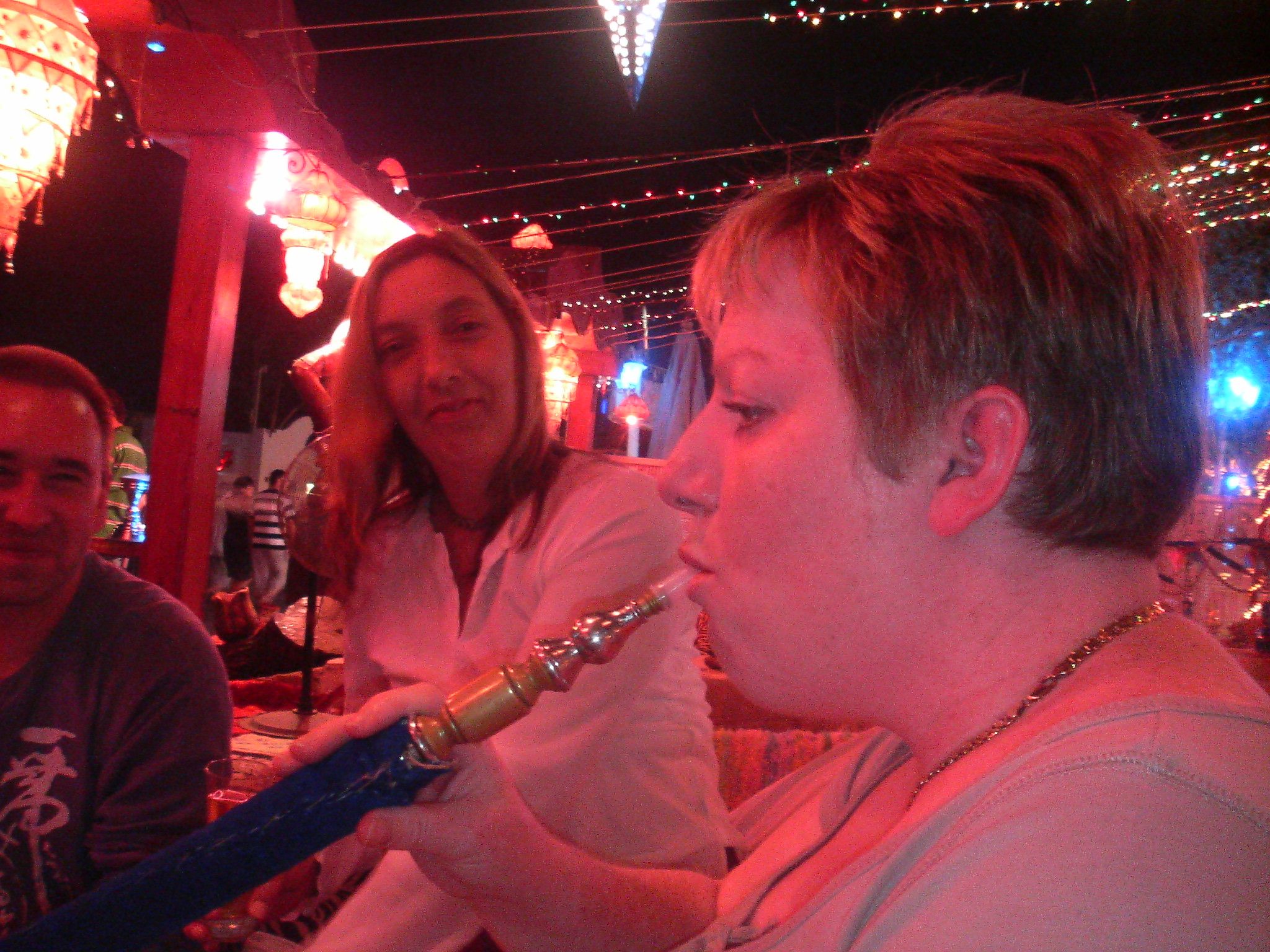 We had a nice and cheap meal at some restaurant and then headed back to the hotel.
The following day we met up again with Helen and Dave at the beach, but then they had to leave for their flight at 4pm.
So, then it was just kp and I.
Thanks for a lovely time Helen and Dave. We are looking forward to meeting up back in the UK


So, first day on our own, kp was keen to see the local area. She wanted to go to Old Sharm. It was dirty and very touristy. No sooner had we arrived than we were ushered into someone's shop (a friend of the taxi driver, amazing

Shopkeeper :- Come into my shop. My shop is my home, and in Egypt, when we welcome people into our home, we offer them refreshments. Would you like some tea/coffee/sprite/coke ?
Well, I was well up for this. I knew it was a con, but it was funny and wanted the journey of it.
dp :- Yes please
kp:- SCOWL OF SCORN
We got a tea and coffee (in beautiful egyptian _plastic cups_).
Shopkeeper :- There is no need to buy anything. You are our guests. This is our family company and we sell aromas (or some word like that).
dp :- Perfume
Shopkeeper (SCOWLING) :- No, not perfume, this is pure incense (or whatever word he used)……
He went through all the perfumes from the UK, and allowed us to smell his equivalent, which we struggled to see the likeness of.
Anyway, 20 minutes later, and kp was dropping big hints for us to go, we ended up paying £25 for 5oz of some perfume just to get out of the shop.
The shop owner then proceeded to follow us ALL the way around Old Sharm. We couldn't wait to get out of there.
At the end of the market, he wanted to call us a specific taxi, but it would be 20 minutes. Well, there was nee way kp was waiting 20 minutes for a taxi, so I just flagged one down and got the hell out of there.
Horrible experience.
We went on the beach for a bit in the afternoon and then had room service for tea (a safe meal).
Tuesday we went swimming with the dolphins. Something Karen has always wanted to do. It was expensive at over £220 (for the 2 of us) but money well spent. The water wasn't as warm as the sea, and felt like it was about 5′C, but was probably about 20′C. We got in and stroked the dolphins and they gave us a ride around the pool, all you had to do was to hold on (even with one hand) to the dorsel fin. The dolphins were so clever. If you held on with one hand, they went slower than if you held on with one (which is all kp could do), but to start with she just didn't feel confident enough to do it. They then got us to swim over the other side of the pool (I dragged kp in her life vest), cling on to the side and the dolphin came over and waited for you to grab its fin and then it swam you over. I did it first and it was great, apart from my trunks coming off. The dolphins probably just thought it was some sort of huge eel and weren't phased. I then had to swim all the way back to kp as she wasn't coming over on her dolphin. She started to get upset, she SOOOO wanted to do it, but wasn't confident enough to hold on. I rode the dolphin again back over……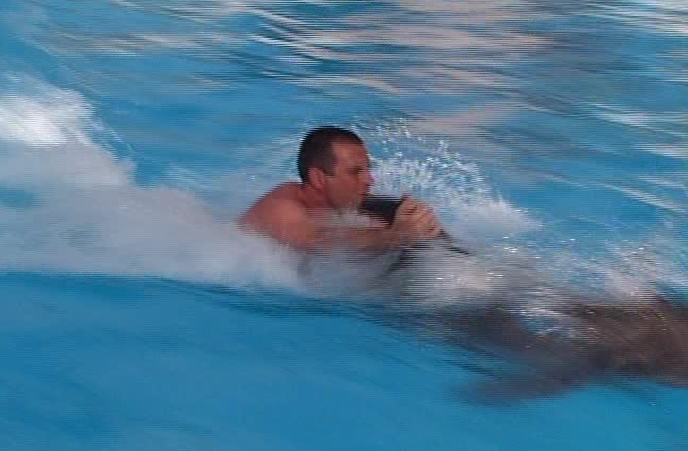 and asked the trainer if he could pull 2 people. Obviously Stephen couldn't (that was the name of our dolphin). But, the trainer said if she held with one hand, he would go slowere.
Here is kp before she got upset, unable to grab the dolphin…..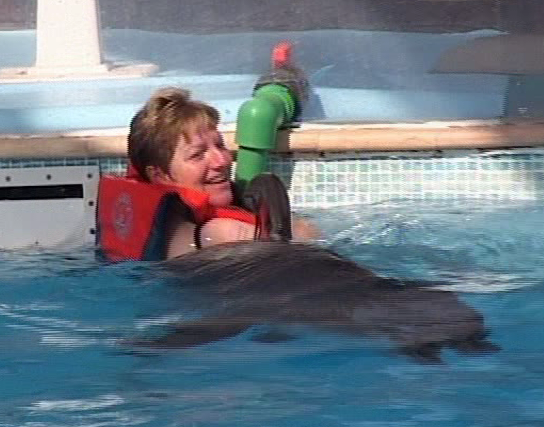 So, I swam all the way back again (knackered by this time) and tried to coax kp to do it, and sure enough she did and loved it. Here she is…..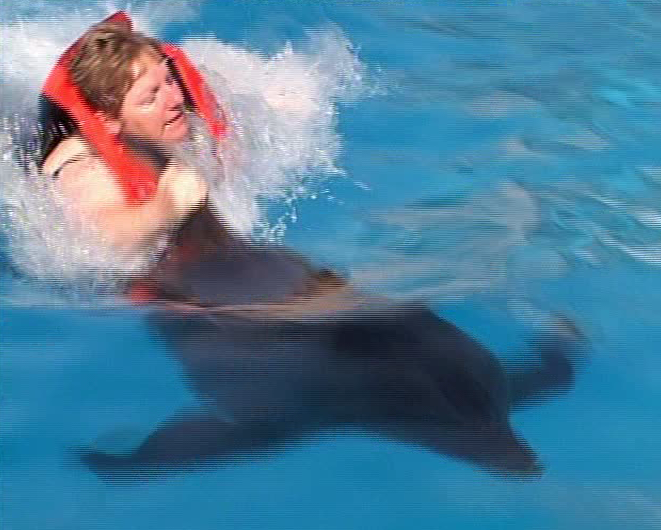 Here is Steven and Karen kissing…..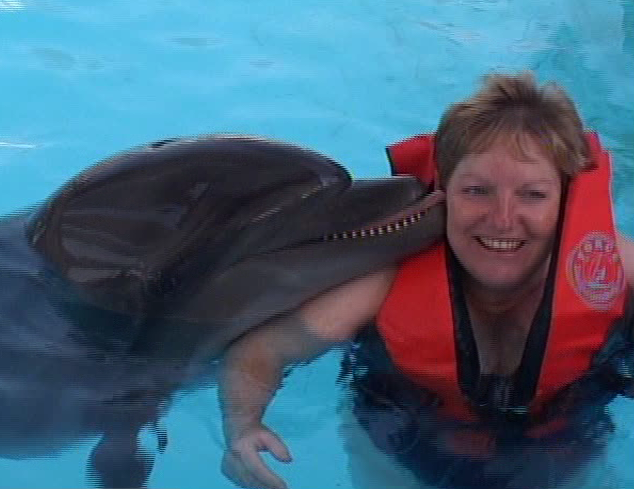 A thoroughly enjoyable hour and one of kp's dreams fulfilled….
In the afternoon, we went snorkelling again, and this time got kp fully horizontal. She loved it.
Wednesday, we started with a morning of pampering in the Health Spa before leaving in the afternoon for "A Night with the Bedouins".
We both went in the Hydro Pool which had jets for all the parts of your body, and then went for a LOVELY massage.
The Bedouin night followed, what a cracking excursion that was. We head off into the desert away from the security of Sharm-Al-Sheikh (there were police and army everywhere) and drove for 30 minutes. We saw wild camel on the way there and when we got there it was SOOOO quiet and there were about 30 Bedouin people and about 60 camels. I tried to get Karen to go on a camel, but I am so pleased she saw sense and she would have been thrown off for sure. If she had managed to get on one of the beasts, her hips would have been done in by the end of the 20 minute ride up the hill. My hips were buggered and they aren't anywhere near as bad as kp's.
Karen went back on the coach and the driver really looked after her and took her to our destination (the Bedouin tents). My camel was tied to pair that were being lead by a 10 year old Bedouin girl.
Here's me and my camel……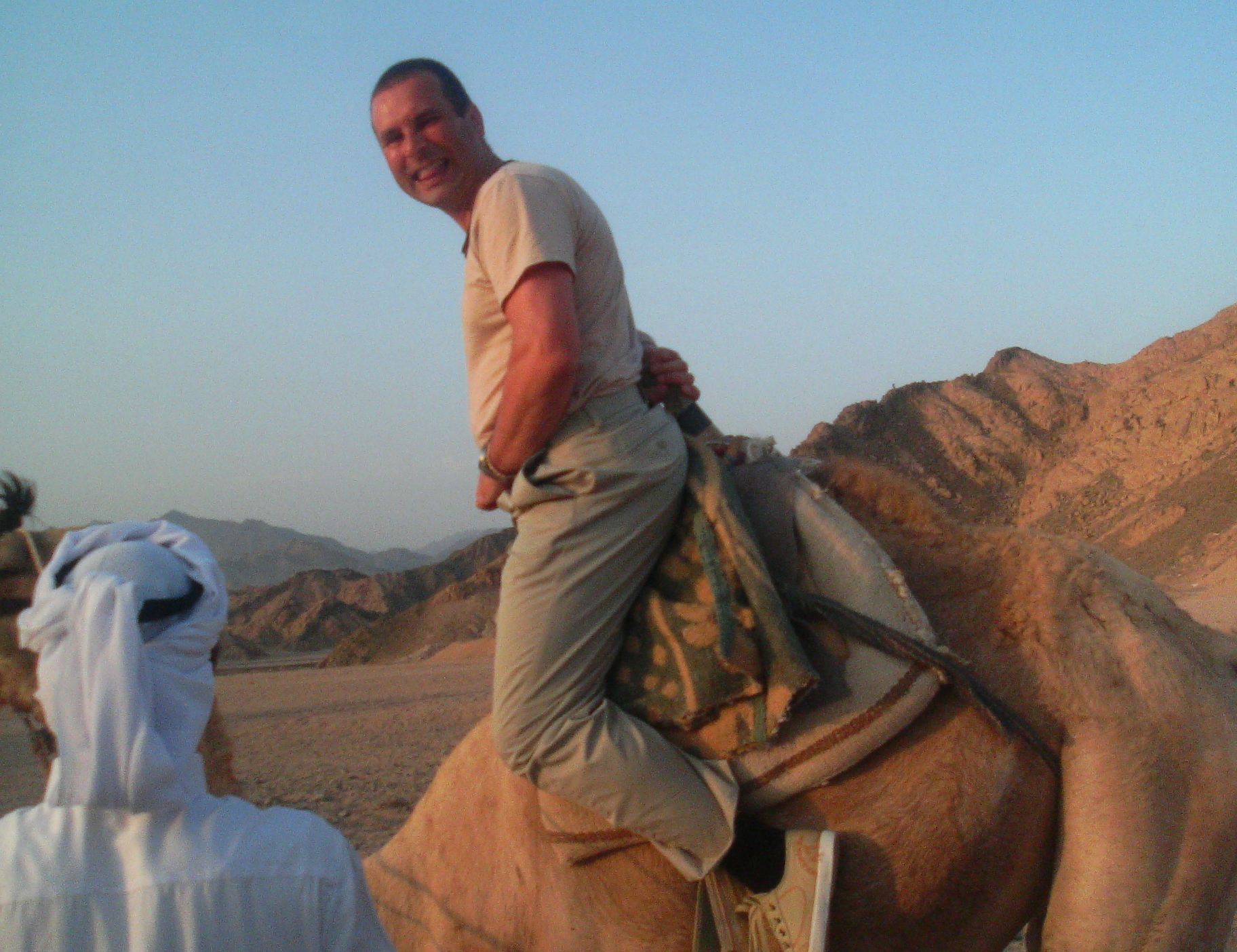 We had been told not to give them much money at the end of the trip. The least I had were £10 notes (equivalent). We had also been told that the kids loved sweets. You couldn't half tell by their teeth. When we finally dismounted, my girl put a hand-made bit of lace around my arm and held out her hand for some cash. I explained that my wife had my money. Blimey, she wasn't happy about that. So, I handed her some fox's glacier fruits (my last ones as well). She wasn't happy with that, so I found some chewing gum and gave her that as well, and then walked off. Yikes.
I met up with kp, and we sat on these large rugs for some Bedouin Tea. It was hot and VERY sweet, and just about palatable.
Here is kp as the sun was going down……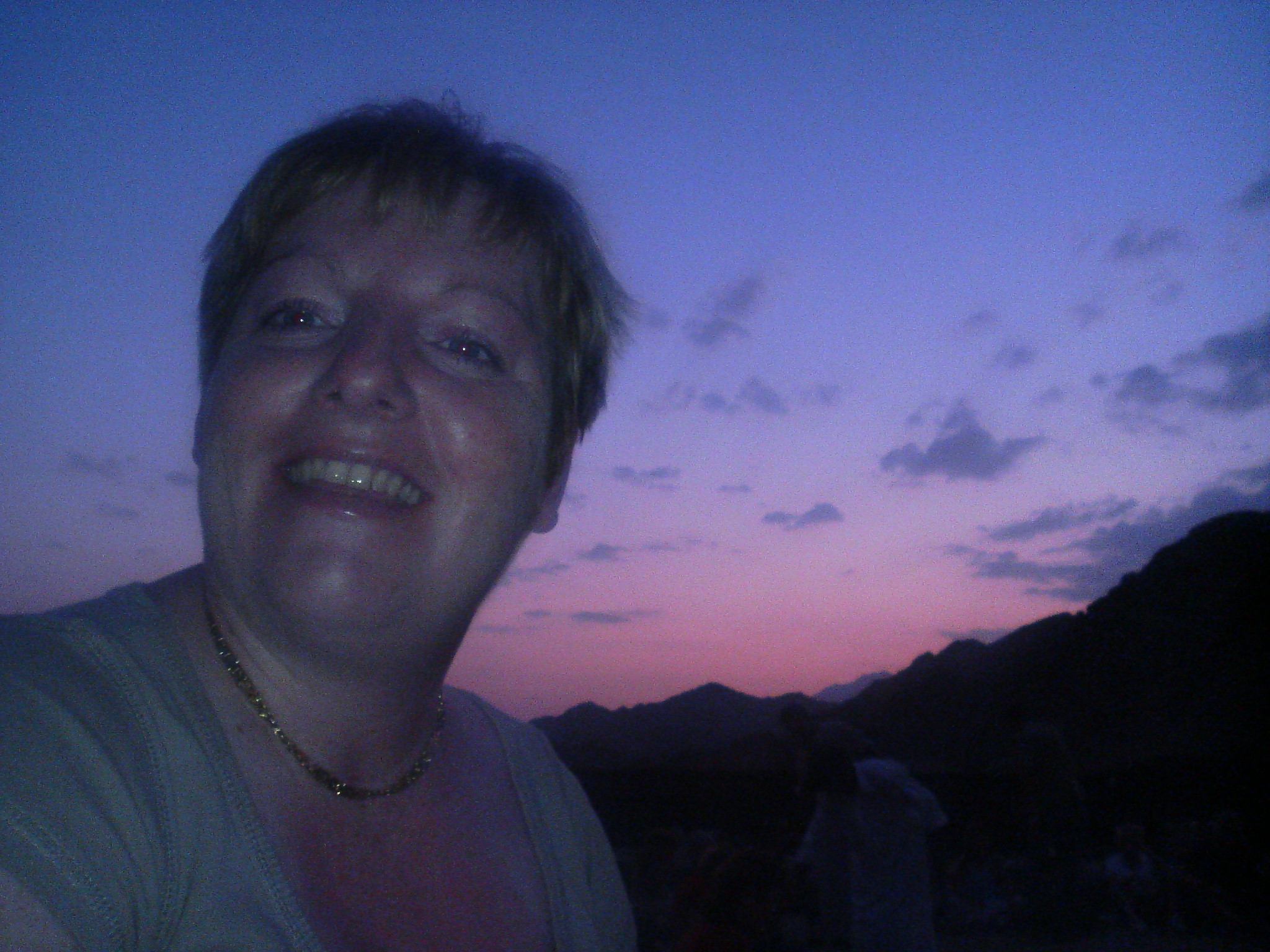 After the tea, we had a lovely meal, cooked by the Bedouins, and then went back on the coach to go star-gazing. You could see LOADS of stars (no light pollution here) and they had also set up some BIG telescopes so you could see various things. Our coach arrived first, so we had no queues as you looked into these telescopes and saw Vega, some other planets, but the most remarkable thing through the telescope was the moon. You could see all the craters in glorious 3D. Wonderful. Once all the other coaches had arrived, an astronomer who REALLY knew his stuff gave a very entertaining description of the night's sky. What a great day and night !!
The following day, I had booked for a day's boat diving at Ras Mohammed (apparently one of the best diving sites in the world). Karen spent the day at the beach sunbathing and catching up on her books. My day was absolutely awesome. I met up with some really nice people and had what must class as the best day of my life. The diving was incredible. We did 3 dives. As an open water diver, the deepest you can go is 18m, but most of the best stuff is in this 18m anyway, so I didn't feel like I was missing out. On the first dive, we went to 5m, entered a cave, swam through it exiting at 9m. I saw the most amazing fish and was dead proud that I found an Octopus hiding. I pointed this out to my buddy. He was well chuffed.
On the second dive, I thought I saw a school of shark, but they turned out to be Barracuda. We were close to the land and there were folds of land where the sea met the land. They call them chimneys. We were at about 15m, and you could look up and see the sunlight shining down through this chimney with loads of fish between you and the surface (wish I had a camera).
The best dive of the day for me was the last one. Here is a photo of the site……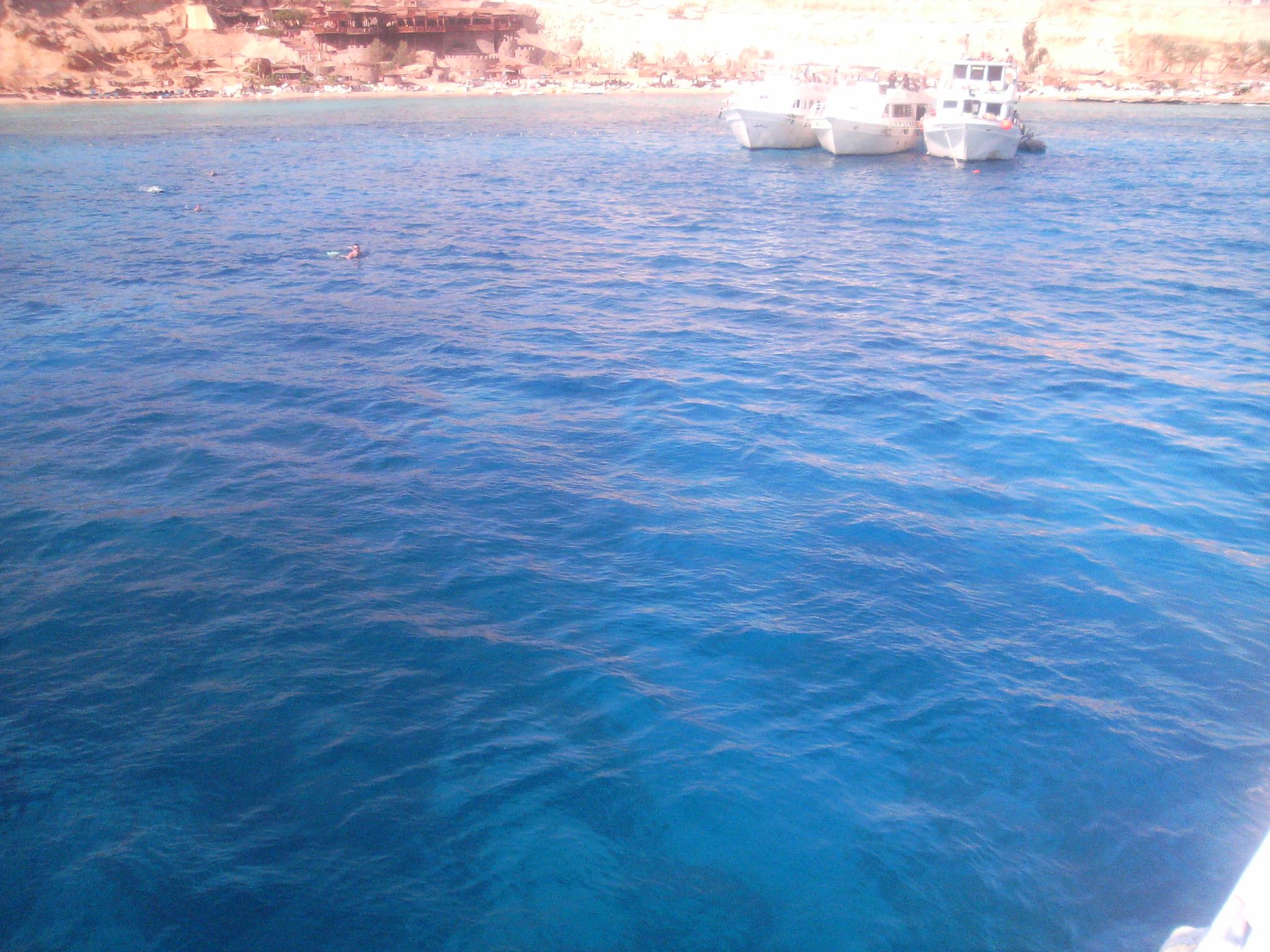 I took this photo because I thought it would show how clear the water was. you could see from top to bottom, but it's not obvious from the photo.
It was like the bonus dive (for some extra money) and my expectations were low, cos of the amazing things I had seen on the previous dives, but it was FANTASTIC.
It was the place all the boats came before they went back to the harbour. So in effect, you ended up swimming beneath the boats (this was a first, as on previous dives, the boat dropped you off and motored away from the coral). But here, you were swimming under the boats with shoals of fish between you and the boat. Amazing, sometimes the boats would be moving and you could clearly see their dual props hammering away.
Then the best bit, I caught sight of this strange boat with big windows underwater. It took me a few seconds to realise that it was the tourist submarine thing where non-divers can see the fish. When I realised this, I started waving and then all of a sudden, I saw loads of flashes go off and loads of people waving back. Awesome. I was thinking that it was amazing, but they were probably thinking "Look, there's a diver waving at us".
Fantastic.
What a cracking day.
I spent all night telling Karen all about it.
I met a nice couple called Hilary and Denis (from ireland) and she took some photos of me and said she would email them, so if she manages to email them, I will add some more photos in.
Friday, we went to Na'ama Bay in the day and had a horrid time. We missed you Dave and Helen. The journey was awful again and we had the "Come into my home" experience again. And that night, I had what turned out to be the best meal but the worst of the holiday. It was at the Hard Rock Cafe. The food was gorgeous, but I had the meal that gave me food poisoning. It was in the form of a Beef Burger. They asked me how do I want it cooked. I normally say "Rare", but I thought it's Egypt, better say "Medium". I should have asked for cremated. That meal ended the holiday for me, as I had the worst sh+ts I have ever had. And I felt awful. Headache, bad stomach cramps and the loosest bowels possible. If I blinked too heavily, I had gone to the loo !!!
The one thing I am grateful for is that I wasn't sick. I hate being sick. And although the stomach cramps were bad and made me feel nauseous, I knew I wasn't going to be sick.
So, the last full day, was spent entirely in the hotel room, mostly asleep as was Sunday, where we had to hang around for our 7pm flight. The flight home was torturous. Even the wait for the flight was bad. Loads of loo trips, and NO TOILET ROLL !!!! I'll not tell you how I solved that one !!
Here is kp at the airport. She caught me taking a photo and then shut her eyes again for this photo…..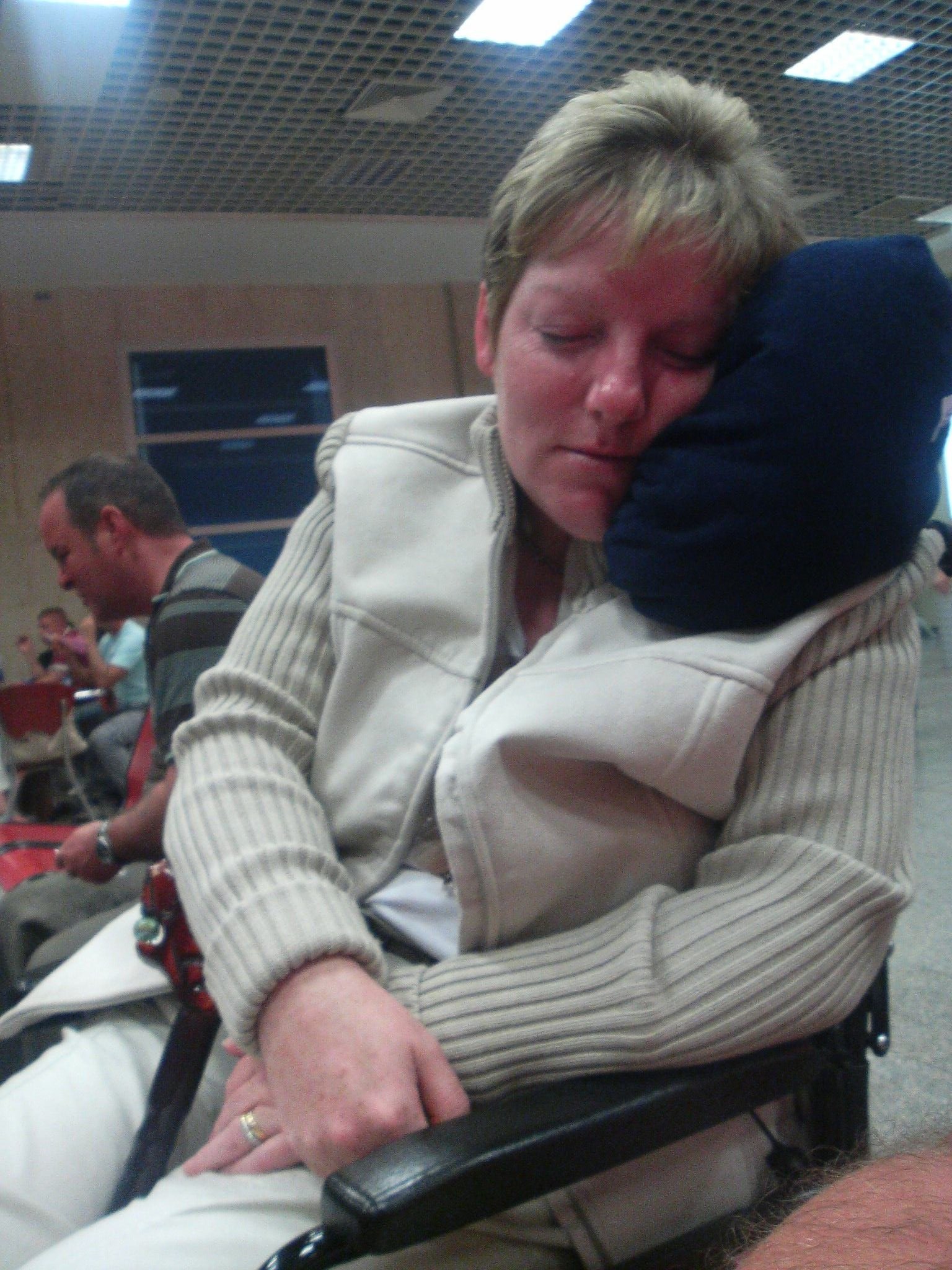 It was great to be home, but it's now a week on from when we got home. I haven't been to work, and have had a truly awful week. The sh+ts continue, the cramps have just started to ease off, but I still can't eat big meals, and no matter what I eat, I immediately am back on the loo after the food. The main problem I have now, a week on, is that I haven't really eaten anything, so the smallest walk tires me out, and my legs physically ache.
I got the results of my sample back, and they show nothing that can be treated with anti-biotics. I was annoyed at that. I had to wait 4 days for the results, and I was hoping it to say what was wrong, and that this tablet will make you better, but the doctor just says that he gets this ALL the time with people who have been to Egypt. It can go on for 2-3 weeks !!!!! I do feel it's getting better, but I don't want another week of this.
So, in summary, we both had a fantastic holiday. The hotel was great, but the HOTEL FOOD WAS VERY POOR. There was a waiter on the beach, that once he understood that Karen and Helen struggled to walk REALLY looked after them, bringing them drinks even when they hadn't asked for them, which was great !! (Thanks Adel). Diving amazing, Company great !!!
Shame about the shits !