Things still bad.
Mood  – Rock Bottom
Sleep – To Pot
Pain  – Generally ok, but slight hiccup.
Sunday night (after last week's blog) saw Karen get quite a lot of pain in her right hip. At one point we were close to going to the hospital, but we agreed to leave it until the morning and it turned out to be the right thing to do, as come Monday morning, although it wasn't gone, it was better.
The highlight of Monday was a plumber attending to fit a water meter, apart from that, it was uneventful.
Tuesday and it was physio for kp. kp hasn't been in the mood for physio recently, but has forced herself to go. She normally loves it and it's the highlight of her week, but not this week.
On Karen's day off (wednesday), Syd came (her case manager). It didn't help kp's mood.
Thursday and Joanne came to work on Karen's left arm. Karen remained subdued. Towards the end of the day, she felt she was getting slightly better, but then suicidal thoughts during the night saw her mood return to rock bottom.
Friday and it was physio again and we took the dogs to the vets in the afternoon to get their boosters done and to get a limp, that Elsa has, looked at.
This weekend saw some incredibly heavy rain. kp wasn't in the mood for going out at all, and probably just as well, 'cos the bridge we normally cross was flooded….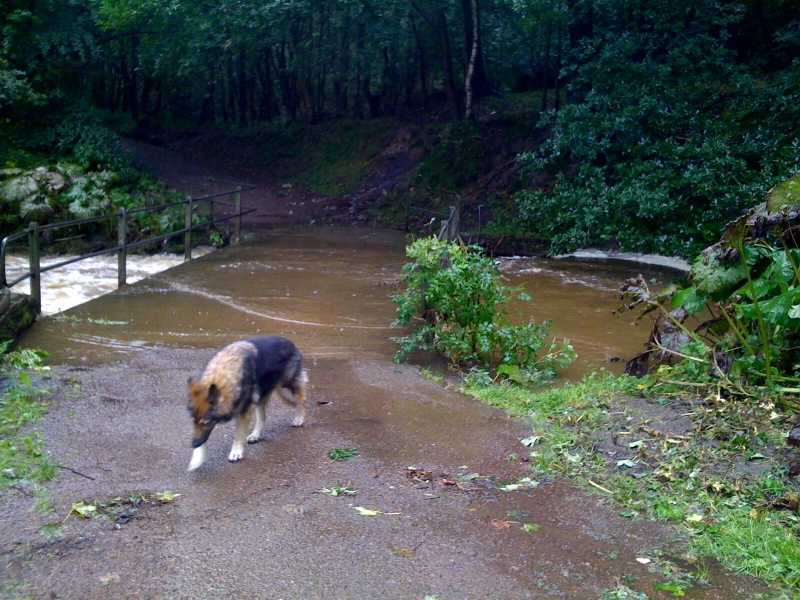 Yesterday and today, I walked the dogs, but kp did manage to come shopping with me.
So, not a good time at the moment in the Pollard household.
As usual, fingers crossed, that her mood can only get better. Some good news is that there has been lots and lots of applications for her support worker. I feel sure that her mood will pick up when she becomes active, something the support worker will help kp achieve.
Watch this space…..