Weather-wise, it was a lovely day for April. Sunny with scattered clouds with visibility of 6 miles and a good April temperature of 12′C. The morning was uneventful. We enjoyed breakfast together before kp departed to meet up with Angela and Kevin at Chester-le-Street.
Karen's work with the Blood Service means she travels to a different destination daily to take blood from the public – I have heard them mention of themselves as the Vampire Squad. Where possible, she car-shares with work colleagues to share the petrol costs. Today was no exception. It was Kevin's turn to drive. Kevin had just filled his car up with petrol and drove to the meeting point. Angela arrived at the meeting point first and got in the front seat of Kevin's Laguna. Karen arrived in her volvo moments later and got in the rear of Kevin's Laguna.
Karen is a stickler for seat belts. Her work colleagues laugh at the fact she always takes the motherly approach when she travels on the work minibus and instructs everyone to put their seatbelt on. A running joke at work, but they always did !
Today, who knows why, Karen didn't put her seatbelt on. Was it Fate ? Destiny ? Whatever it was, it saved her life.
The day's blood session was at Fulwell. Kevin took the sensible motorway route. Unfortunately, there were roadworks on the A194(M) next to the golf course and the 3 lanes were becoming 2. He could see all the traffic was slowing to a halt and he did likewise. Karen and Angela can't remember anything vividly since they got in the car at Chester-le-Street. Kevin remembers slowing in the traffic and coming to a complete stop and waiting in the queue of traffic.
From hereon in, this chapter will be told mostly by the people who were at the scene. Their names have been changed.
First, here is the case summary drawn up by the police to give to the prosecution against (I have called him..) Andrew Guilty.
The FULL VERSION (with highlights) can be seen by clicking on FULL VERSION.
Here are just the highlighted bits….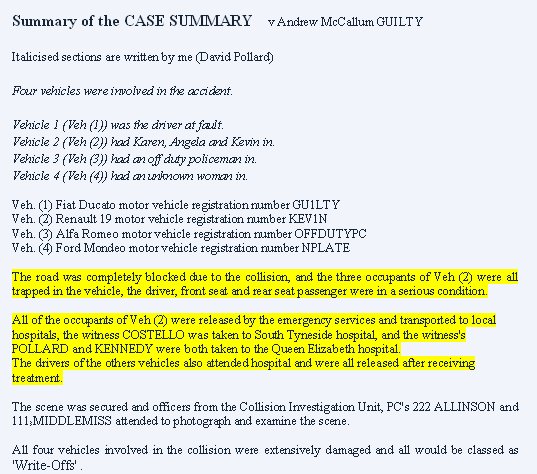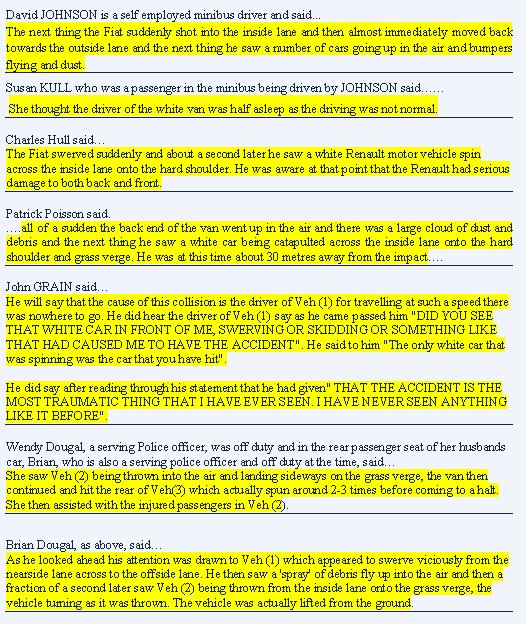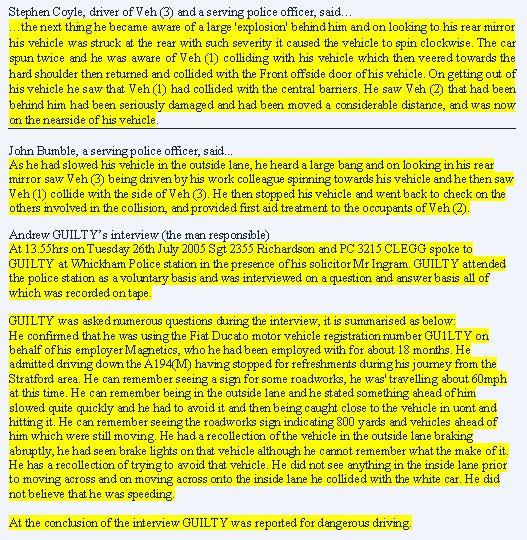 So, the accident had happened. I was blissfully unaware of it until much later in the afternoon. I texted Karen a couple of times in the afternoon to let her know how much work I had got done at home, but no reply………..a little strange, but not unheard of.
CLICK HERE to read what happened immediately after the accident had occurred.
No Responses to "Facts surrounding the Accident – 27th April 2005 – 1.20pm"
No comments posted yet