All good in da hood

Wow, it's been a while since I could type that. Probably only 4 weeks (or so), but it feels like a lifetime

kp is back on track

Tuesday was the calm after the storm. It was a great storm and we LOVED it, but tuesday felt like a recoup day. kp had walked too much at Beamish and was paying the price, using a walking stick around the house. I could really feel her pain, but it DIDN'T get her down. It would have a week ago !!! A good sign !
I have been rough this week. Come down with some chest infection, bad glands, sore throat, headcold, so not been the best for me, and I think kp may be getting it just now, but we'll see.
The morning was catching up on Nat and kp's weekends and in the afternoon, the girls gave the dogs a good brushing down in the garden.
Wednesday and the pain from the previous day had all but gone. Natalie came and both kp and I needed a snooze, so Nat read some of the blog.
Thursday and Karen was already planning to meet up with family at the weekend and in preparation, Nat took Karen to get her hair/nails done. I thought they'd be gone a couple of hours, but 5 hours later, no sign !

  They had gone into Durham for a shop

Friday, and very early on after kp woke, kp said….
kp:- I didn't want to say anything until now, but I think I am over the depression (or words to that effect)
Music to my ears. I had been dreading asking how she was, for fear of a negative answer, so to get it spontaneously from Karen was a real good sign, as she wouldn't have told me until she was sure !
Nat took kp to the gym in the morning and she did a bit of the cross-trainer (first time for 5 mins) plus other stuff. She didn't suffer TOO much the following day. In the afternoon, I took Karen to the psychologist who was pleased kp's mood had lifted. We discussed various things….Here are a couple of them…
Paracetamol – kp has been on 6-8 paracetamol a day for 4 years. Apparently, this dosage for so long, can CAUSE headaches, which is the main reason she takes them at the moment, so she is now keeping a log of when she takes them and why, so we can work out if she can come off them, which would be great.
What to tackle next – one of the other things discussed was what does she want to tackle next. kp was unsure, but I was ! The future. I think kp needs a long term aim, a pastime that she enjoys and that gives her meaning. So, the psychologist suggested a 4-week test period, so we can be sure the mood is up, and then we can tackle the future. We were both really pleased at this way forward. It gives kp a bit of rest time from psychologist-type homework and then we'll be discussing which will help her

Yesterday, we walked the dogs, although not the full walk (because of cross-trainer induced pain) and then had a lovely breakfast with Katie and Peter (the programme, not the people). After that, it was bathtime to try and reduce the pain from the cross-trainer work.  We were due to go and see Michelle, but it wasn't called off because of Karen, but because of Michelle, which makes a nice change.  Pizza with Britain's Got Talent.
Today, much the same. Dogwalk, breakfast, hot bath and blog writing for me, email to the Case Manager for Karen.
So, very pleased and proud to report kp is back on track and life is good again.
We are going to Spain at the end of May, but nothing booked after that, so we need to start thinking of another trip to keep kp focussed

To end on a little funny……
Here's what I have been staring at most of this week…..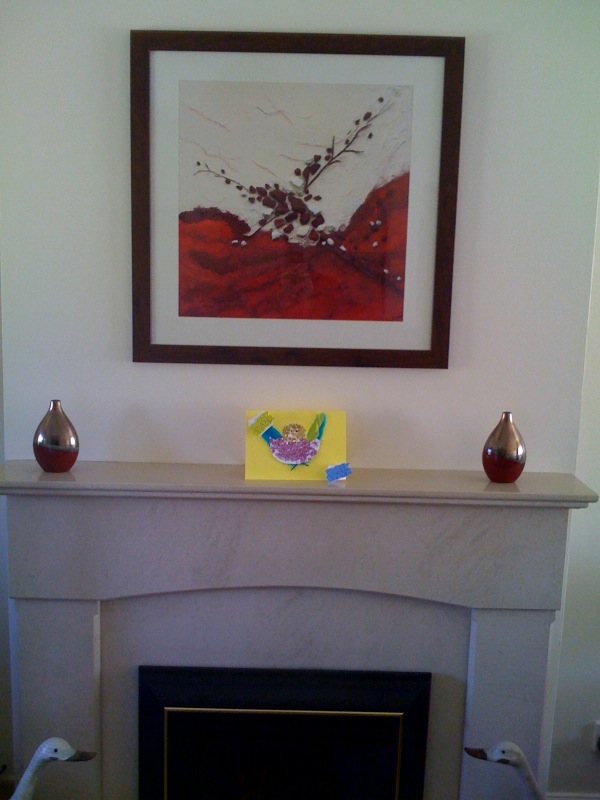 Now, it's an Easter card from the kids (from last weekend). All I can see is a blonde-haired woman lying on her back with her legs wide apart……Do I need therapy ?
It is, of course, something Easter-related, which is a bit more obvious if you look up close….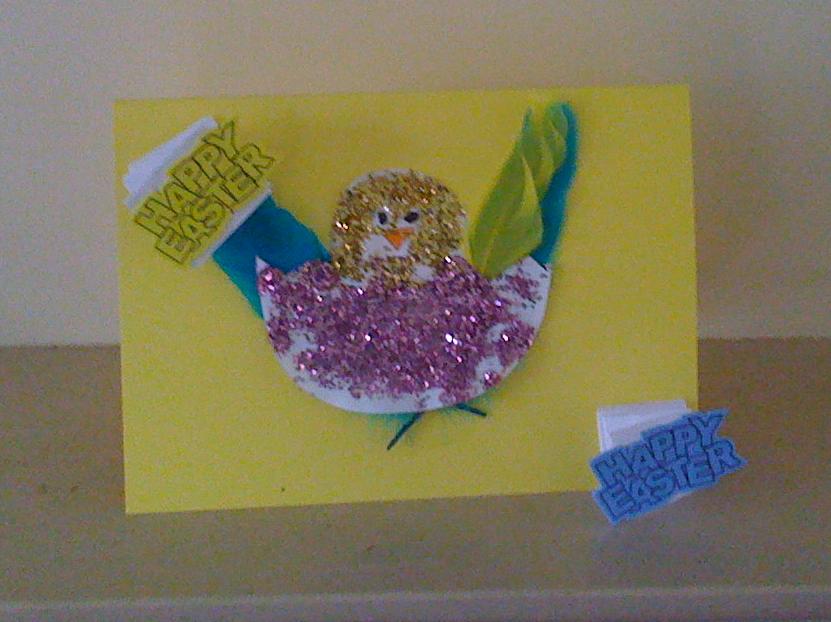 Silly me !